If there are only a few people you plan on inviting into your hot tub (lucky them!), a four-person hot tub is the perfect choice for you.
With enough seating to accommodate a small family or group of friends, hot tubs of this size are relatively compact while still providing plenty of room for users.
They don't skimp on the luxury features, either: from massaging jets to tranquil waterfalls and built-in audio systems, you won't be missing out on any amenities.
Read on to see two of the best four-person hot tubs on the market.
1. Hudson Bay HB250R Spa
Small, sleek and easy to set up — what's not to love about the Hudson Bay HB250R?
And, since it only requires 115V of electricity to run, you can plug it into any normal household outlet — no additional electrical work or lengthy installation required.
The HB15 also features:
Twenty stainless jets.
A soothing backlit waterfall.
Multi-colored underwater mood light.
User-friendly controls.
Proprietary HeatFlow™ manifolds for efficient heating.
Plus, as one reviewer said, the HB250R is "very easy to maintain."
You'll love the Hudson Bay HB250R if you:
Want a low-maintenance spa you can set up right away.
Don't want to pay for extra electrical work.
Are looking for a luxurious yet affordable hot tub.
2. Dr. Wellness G-100 Tranquility Spa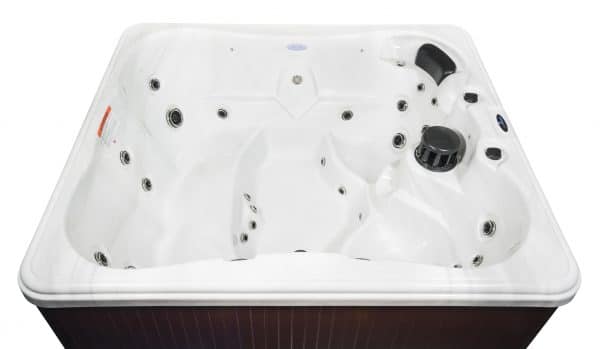 For customers who want a top-of-the-line four-person spa, the Dr. Wellness G-100 Tranquility Spa is a perfect choice.
With plenty of premium features, a beautiful design and a spacious interior, this is a truly high-end four-person hot tub.
The G-100's features include:
Thirty black and chrome jets positioned to massage the neck, shoulders, calves and feet.
Relaxing waterfall.
Perimeter lighting.
Bluetooth audio system with built-in speakers and subwoofer.
Full foam insulation for optimal heat retention.
Comfort cushion headrest.
Easy-to-use controls.
Factory-installed ozonator.
According to customers, this spa is "absolutely beautiful."
The G-100 will be a fantastic choice for you if you:
Want a state-of-the-art four-person spa.
Are looking for the best features available.
Want more space than other four-person spas can offer.
With either of those spas, you won't regret your purchase. The right four-person hot tub can provide you and your family with years of fun and relaxation.