Even if you purchase the most gorgeous hot tub in the world, it will likely stand out from its surroundings unless you get creative with landscaping.
If you're running short on inspiration, don't worry: here, we'll show you four beautiful (and easy!) landscaping ideas you can use to transform your yard into a personal retreat:
Add some shade.
Liven up your space with plants.
Create a backyard lounge.
Use stylish accessories.
1. Add Some Shade
With the addition of a little shade, you do more than just protect your hot tub from the sun. Many shade-creating options can also bring your landscaping together and integrate your hot tub into the yard.
For instance, you could install a sleek pergola like this one: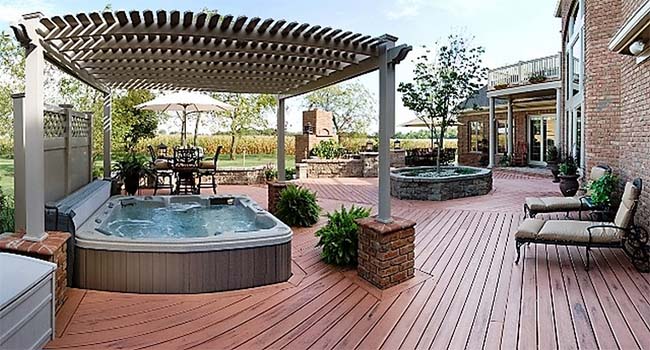 Or, you could opt for a romantic gazebo like this:
Other options include shade sails, pop-up canopies or pull-out shades. Choose whatever works best with your style.
If you're unsure whether a gazebo or enclosure is right for you, head over to our previous blog post to find out.
2. Liven Up Your Space With Plants
One of the best ways to breathe life into an outdoor space is to incorporate some greenery and flowers.
When it comes to adding plants to your landscaping, the possibilities are endless. From zen-style gardens to vibrant flowers to elegant topiaries, the choice is yours.
We love how this backyard uses lush tropical greenery to enhance a small hot tub: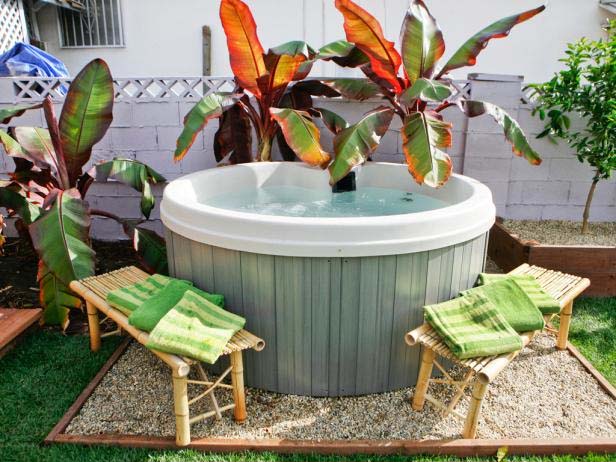 Alternatively, you could use a trellis to bring the greenery right up next to your hot tub. As an added bonus, a strategically placed trellis can even double as a hot tub privacy screen:
3. Create a Backyard Lounge
If you incorporate your hot tub into a backyard space that can be used for lounging and entertaining, you'll be able to create a truly stunning backyard.
To get started, think of the elements you'd like to include. For example:
Lounge chairs.
An outdoor fire pit.
Patio furniture.
A colorful patio umbrella.
If you'd like, you can go the whole nine yards with a custom-built lounge area like this:
Or, you can keep it simple and low-cost with a few color-coordinated pieces of furniture:
No matter your budget or time constraints, there are options out there for you.
4. Use Stylish Accessories
One of the easiest ways to improve your backyard landscaping with your hot tub in mind through the use of some attractive accessories.
For instance, you could add some chic spa steps:
Or, you could equip your hot tub with an elegant and convenient bar:
No matter which landscaping ideas you choose to run with, you'll end up with a backyard you'll be proud to show off (and a hot tub you can't wait to use).