If you're in northern or central South Carolina and are looking for a top-of-the-line hot tub, bath, sauna or tanning bed for an affordable price, stop by Aqua Living's Greenville location. We offer cutting-edge products at competitive prices because we're a manufacturer, not a retailer.
Greenville Address
505 South Welcome Rd.
Greenville, SC 29611
(864) 302-8300
Hours:
Monday – Friday: 10am – 5pm
Saturday: 10am – 4pm
Sunday: Closed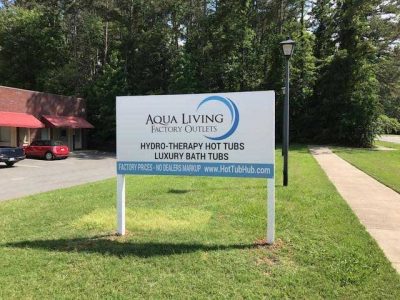 Greenville, South Carolina, Aqua Living Store Manager – John Bramell

Aqua Living's Indian Trail outlet is managed by John Bramell, an Aqua Living representative who has been with the company since 2010.
Whether you're looking for a luxurious hot tub or a soothing sauna, John can use his knowledge and expertise to find the product that's perfectly suited to your needs.
Before Aqua Living, John served as district sales manager for The Berry Company. He has had a long and distinguished career in both the public and private sectors.
Hots Tubs at Our Greenville, South Carolina, Location
At our Greenville outlet, our helpful and experienced staff will be glad to assist you in finding a hot tub, bath, sauna or tanning bed that's perfectly tailored to your needs.  Here's one of our customer favorites:
Dr. Wellness G-7 Tranquility Spa
As a member of our customer favorite Tranquility Spa line, the Dr. Wellness G-7 is a luxurious spa outfitted with some of the most high-tech features available, including:
MP3 audio system
Built-in speakers and subwoofer
Bluetooth capability
Perimeter lighting
Waterfall
Spa cover
Fifty-nine black and chrome jets positioned to massage the neck, shoulders, calves and feet
Comfort cushion headrest
Full foam insulation to help maintain your ideal temperature
Balboa spa systems controller
Synthetic cabinet in the color of your choice
Multi-layered fiberglass reinforcement
Factory installed ozonator
Anti-fungicide plumbing
And, since this roomy spa seats up to six people, it can easily be enjoyed with a group of friends and family.
You can purchase the Dr. Wellness G-7 Tranquility Spa from Aqua Living for a price so low, we can't disclose it online. Please call us at the phone number listed above for additional pricing information.
Check Out Our Product Showcase
Greenville, South Carolina: Southern Charm and Stunning Scenery
Greenville, South Carolina, has many popular attractions for visitors and residents. Falls Park on the Reedy is a must-see destination with stunning waterfalls and tranquil gardens. Downtown Greenville offers a vibrant atmosphere with unique shops, restaurants, and nightlife. The Swamp Rabbit Trail is perfect for outdoor enthusiasts with its 22-mile scenic trail for walking, running, or biking. The city's art scene is alive and well, with the Artisphere outdoor arts festival and Greenville County Museum of Art showcasing works by local and national artists.
For sports fans, the Greenville Drive baseball team plays at the downtown Fluor Field stadium. Visitors can also enjoy the Paris Mountain State Park for hiking, fishing, boating, camping, or test drive high-performance BMWs at the BMW Performance Center.