Looking for the 4 best hot tub brands? It can feel a little overwhelming. Shopping for a hot tub can feel like a puzzling and time-consuming task, especially if you don't know which type of hot tub or brand you're looking for. At Aqua Living we choose to sell only the best brands and all those brands are made in America!
Here, we'll showcase four of the best hot tubs brands on the market, so you can quickly determine which spa is right for you, stop shopping and start enjoying your new spa.
No. 1 Brand: Dr. Wellness
Dr. Wellness G-7 Tranquility Spa
As part of our popular Tranquility Spa line, the Dr. Wellness G-7 Tranquility Spa is a truly state-of-the-art spa. Its features include:
MP3 audio system.
Built-in speakers and subwoofer.
Bluetooth capability.
Waterfall.
Perimeter lighting.
Spa cover.
Fifty-nine black and chrome jets positioned to massage the neck, shoulders, calves and feet.
Comfort cushion headrest.
Full foam insulation to help maintain your ideal temperature.
Balboa spa system controller.
User-friendly topside system controls.
Multi-layered fiberglass reinforcement.
Factory installed ozonator.
Synthetic cabinet in the color of your choice.
Anti-fungicide tubing.
And, since this spa comfortably seats up to six people, it's perfect for enjoying with friends and family.
You can buy the Dr. Wellness G-7 Tranquility Spa from Aqua Living for a price so low, we can't reveal it online. Please call the number listed above for additional pricing information.
At the top of our best hot tub brands list we have Dr. Wellness! All Dr. Wellness spas, whether they're swim spas or part of the best-selling Tranquility spa line, have proven to be immensely popular with customers across the country.
Dr. Wellness spas are unique in that they're designed to be truly therapeutic for a variety of conditions. Each Dr. Wellness product is engineered with input from licensed doctors, so patients with conditions like arthritis, psoriasis, chronic pain and acne can find relief from their symptoms.
Because of this, Dr. Wellness is currently the most-prescribed hot tub brand in the world.
You don't need to have a medical condition to enjoy Dr. Wellness spas, however: many customers simply enjoy Dr. Wellness spas' wealth of high-end features, from waterfalls and LED lighting systems to MP3 audio systems and color-coordinated massaging jets.
Dr. Wellness spas are:
Designed with input from medical professionals.
Equipped with world-class features.
Made in the U.S. from top-quality parts.
No. 2 Brand: Catalina Luxury Hot Tubs
All Catalina hot tubs, from the sumptuous Luxury spa series or high-tech swim spa line, consistently receive four- and five-star reviews from customers.
Proudly manufactured in the U.S. from the most cutting-edge materials available, Catalina spas are designed to provide years of indulgence and stand up to heavy use. Each spa is manufactured and tested by hand and is custom-assembled according to the exact needs of each customer.
From Bluetooth wireless technology to powerful massaging jets to soothing, resort-quality water features, the features available in Catalina spas are simply unparalleled.
Catalina spas are:
Engineered based on decades of industry experience.
Manufactured in the U.S. with top-quality components.
Appointed with features that are both upscale and functional.
No. 3 Brand: Hudson Bay Spas
Perfect for the hot tub customer who's on a budget, the Hudson Bay HB31 comes at a low price point without sacrificing luxurious features. Its features include:
Multi-colored Underwater Mood Light
31 Stainless Jets
Digital Controls
Ozone Ready
White Acrylic
Synthetic Cabinet in Mocha
Friction Heat plus HeatFlow™ Manifolds
Multi-Layered Fiberglass Reinforcement
Standard Foam Insulation
ABS Bottom for protection from erosion
Plumbed using 100% Anti-Fungicide tubing to prevent nasty bacteria back-up in plumbing lines resulting in cleaner water and less chemical use
Proudly Made In The USA
Plus, this spa allows you to choose from a variety of optional upgrades, such as:
Rechargeable floating drink station.
Cover lifter.
Nature2 spa water purifier.
Side handrail.
Booster set.
One-year extended warranty.
Spa startup chemical kit.
You can purchase the Hudson Bay HB31 spa from Aqua Living a low price.
When looking at the 4 best hot tub brands it's not hard to see why Hudson Bay makes the list. Every Hudson Bay spa is carefully designed to offer both high-end features and affordability, a combination that's attracted a great number of customers.
Unlike Dr. Wellness and Catalina spas, which require 220 Volts of power, Hudson Bay spas require only 115 Volts of power, making them energy efficient, a breeze to install and less costly to run than their more powerful counterparts.
With high-end features like LED lighting, high jet counts and sturdy fiberglass reinforcement, Hudson Bay spas are built to last without breaking the bank. As an added bonus, every Hudson Bay spa is made right here in the U.S.
Hudson Bay spas are:
Affordable and energy efficient.
Outfitted with high-end, high-quality features.
Manufactured in the U.S.
No. 4 Brand: Plug & Power Series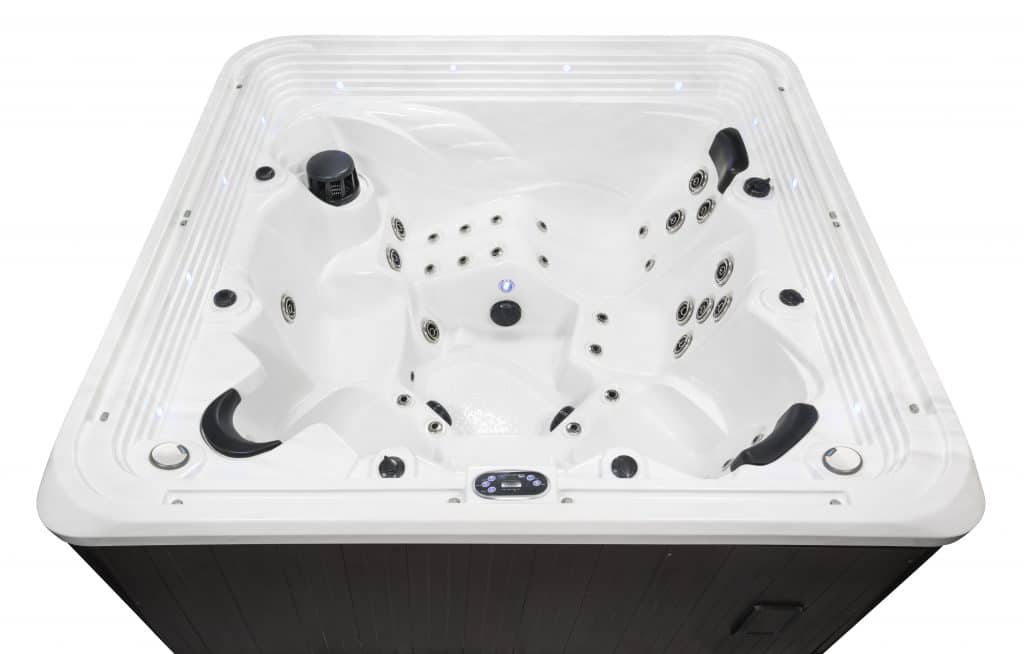 Much like Hudson Bay spas, Plug & Power Series spas provide customers with sophisticated features at a surprisingly low price.
Carefully engineered to offer the performance of a 220 Volt spa at a lower price and lower power requirement of only 115 Volts. This allows owners to plug their Plug & Power Series spa into their existing outlets, eliminating the need for additional electrical work and lengthy installations.
Since all Plug & Power Series spas are manufactured in the U.S. with high-quality components, customers can support U.S. jobs while enjoying the dependability and sturdiness of American-made products.
Plug & Power Series spas are:
Equipped with many of the same features as 220 Volt spas.
Expertly manufactured right here in the U.S.
Available for a fraction of the price of more powerful spas.
Whether you're looking for an unapologetically luxurious experience, therapeutic features backed by medical experts or more affordable options you can start enjoying right out of the box, one of these 4 best hot tub brands is sure to have a spa that's perfectly suited to your needs.
Click here to view Aqua Living's entire selection of elegant, affordable and cutting-edge spas.