Hot Tub Covers – Spa Covers That Make a Difference
A hot tub cover is an essential accessory for any hot tub owner providing several benefits that can help improve the performance, energy efficiency, and lifespan of your hot tub.
Hot tub covers provide essential benefits to hot tub ownership!
Heat retention:

Hot tub covers are designed to trap the heat inside the tub and prevent it from escaping. Keeping the thermal heat from escaping helps maintain the spas water temperature, which can save energy and reduce heating costs.

Safety:

A hot tub cover can help prevent accidents by keeping children and pets from accidentally falling into the hot tub.

Protection:

A hot tub cover protects the spa water from debris such as leaves, dirt, and insects, which can contaminate the water and affect its quality. It also protects the hot tub from weather damage, such as UV rays, rain, snow, and wind.

Energy efficiency:

By retaining heat in your spas, a hot tub cover can reduce the amount of energy needed to keep the hot water at the desired temperature. This can help reduce energy costs and make your hot tub more eco-friendly.

Easy Maintenance:

A hot tub cover can help reduce the amount of time and effort needed to maintain the water quality by keeping debris out of the water. This can also help extend the life of your hot tub by protecting it from damage. Our covers are easy to clean, care for, and maintain, ensuring they last for years to come.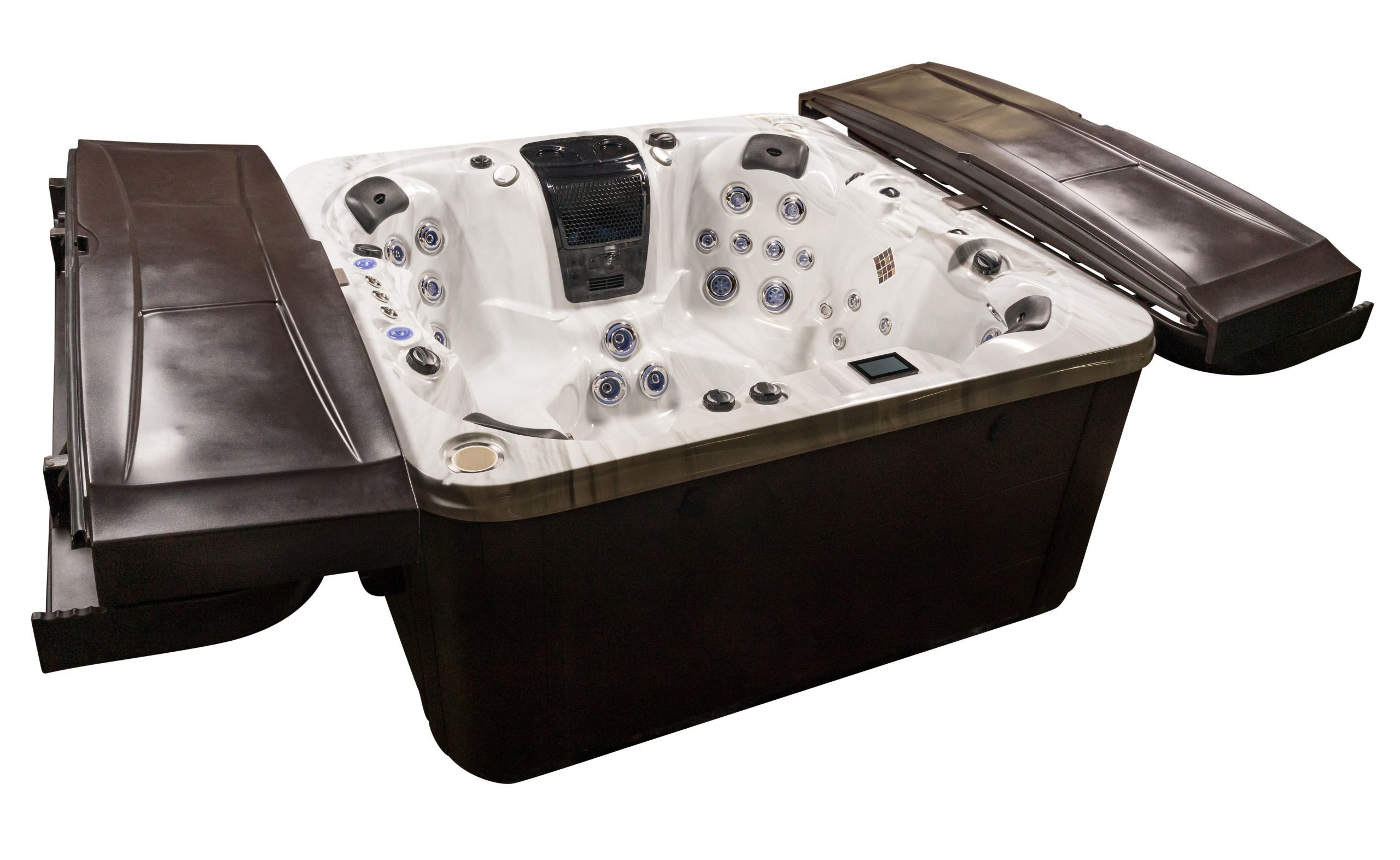 Why are hot tub covers important?
Hot tub covers are a necessity for any new spa or hot tub. After all, your hot tub is a big investment, emotionally and financially. Not only is your hot tub a source of relaxation but also can become an oasis and source of family fun in your backyard.
You'll want your spa to last for years, which means protecting it from the elements and maintaining it. One easy way to protect any hot tub is through hot tub covers.
What makes a good hot tub cover?
A good hot tub cover should have the following features:
Insulation:
The cover should be made of high-quality materials that provide effective heat insulation to keep the water in your hot tub warm. This can help you save energy and keep your heating costs down for your hot tub.
Durability and hard cover hot tubs:
A great hot tub cover should be able to withstand the elements, including sun, rain, snow, and wind. The cover should be made of materials that are resistant to UV rays and weather damage. Our covers are made from top-quality materials that can withstand even the toughest weather conditions, especially a hard cover.
Water resistance:
The cover should be designed to repel water and prevent it from seeping through to the hot tub. This can help prevent mold and mildew growth, which can be harmful to your health. Less things falling in your hot tub means less filters you have to buy. Thank you spa covers!
Ease of use:
The cover on hot tubs should be easy to remove and replace. It should be lightweight and easy to handle, even when the cover is wet. Check out the great cover on a Catalina Luxury Spa series – you'll give it 5 of 5 stars.
Aesthetic appeal:
While the primary function of a hot tub cover is to protect your hot tub, it should also be aesthetically pleasing. Look for a cover that matches the style and decor of your outdoor living space. Your hot tub can just blend right in!
Custom-fit:
A good hot tub cover should be designed to fit your specific hot tub model. This ensures a tight fit that provides optimal insulation and protection.
If you need a new hot tub cover you can purchase a replacement cover here.
To measure for your replacement cover, measure the length and width of the hot tub at its widest points. Then, measure the height of the hot tub from the top of the lip to the water's surface. The cover should be slightly larger than the hot tub's dimensions to provide a tight fit.
If you need help choosing a replacement hot tub cover, please call us at 844-894-6661.
Overall, a good hot tub cover should be durable, water-resistant, and insulated while also being easy to use and aesthetically pleasing.
Types of Spa Covers for Sale
Each type of spa cover for sale at Aqua Living includes: two handles for easy carrying, four tie downs with keyed or keypad lock fasteners so they cannot be easily stolen, and a 5 year manufacturer's warranty. Find a durable spa cover for your hot tub at an affordable price today.
Classic Spa Cover – R17 Insulation
4″ x 2″ Tapered Foam Cover ideal for very moderate to moderate climates.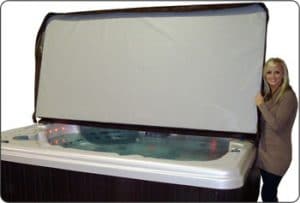 Premium Spa Cover – R17 Insulation
5″ x 3″ Tapered Foam Cover perfect for larger hot tubs in moderate to frigid environments. The cover foam helps keep the heat in and makes it a great cover.
Ultima Spa Covers – R17 Insulation
6″ x 4″ Tapered Foam Cover made for large spas in frigid to arctic environments. Thick foam cores provide great insulation.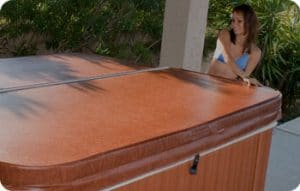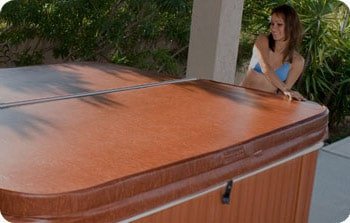 Deluxe Walk On Hot Tub Cover – R19 Insulation
6″ x 4″ Tapered Foam Spa Covers with a glue galvanized channel reinforcement at the center hinge. This walk on hot tub cover is ideal for larger spas in the coldest environments & can support the weight of up to two average adults.
Swim Spa Covers – R19 Insulation
4″ x 2″ Tapered Foam Covers with fiberglass sheets laminated on both sides.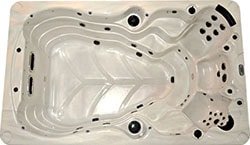 Tonnaeu Soft Spa Covers
These versatile soft spa covers are manufactured to reduce water evaporation, keep debris out of your hot tub, and fit a wide variety of spa sizes.
We currently offer a tonnaeu soft cover in 4 sizes:
48″ x 72″ (up to 60″ x 84″ rectangular)
75″ x 75″ (up to 84″ x 84″ square)
85″ x 85″ (up to 96″ x 96″ square)
 80″ (Up to 88″ Octagon Shape)
Hot Tub Cover FAQs
Can you repair a hole in a hot tub cover?
Yes, you can repair a hole in a hot tub cover. The good news is, it's not that hard! You can buy a patch and cut it larger than the hole in your cover, clean and dry the area and then use adhesive to apply the patch. Make sure you let it have plenty of time to dry before you move the cover.
What hot tub cover has the best warranty?
Our cover with the best warranty is also our most durable cover. The Tuff Top Cover with Lifetime Warranty! It's a walk-on cover that is capable of holding up to 1000 lbs and is currently found on our Catalina line and two of our Tranquility models. The hard top cover goes up and out of the way so you still have a good view and it even makes a great shelf! Leisure time activated!
Do you have a cover that is easy to open?
The Tuff Top cover comes with assisted lift arms that won't break and won't need to be replaced. If your spa does not come with the Tuff Top option, then you can purchase a cover valet that is gas-shock assisted for easy opening or the cover concierge  – a cover lifter that ensures easy and hassle-free removal of your hot tub cover.
How do I clean my hot tub cover?
To clean a hot tub cover, use a mild soap and water solution, and rinse it thoroughly. Avoid using harsh chemicals, bleach, or abrasive cleaners that can damage the cover's surface. A clean hot tub cover can help you keep your hot tub water clean.
Can I use a cover lift to make it easier to remove and replace my cover?
Yes, spa cover lifters can make it easier to remove and replace a hot tub cover. They are designed to lift the spa cover off the hot tub and hold it in place while you use the tub, and then lower it back into place when you're finished.
How long will my cover last?
A hot tub cover's lifespan can vary depending on several factors, such as the quality of materials, usage, and maintenance. On average, a well-maintained hot tub cover can last up to five years, but some covers can last up to ten years or more. Enjoy your time in the tub and don't spend it worrying.
Can I use it in the winter?
Yes, hot tub covers are designed to withstand cold temperatures and protect your hot tub from snow and ice. However, you should remove any excess snow or ice from the cover to prevent it from becoming too heavy and damaging the cover.
What is a walk-on cover?
Walk-on hot tub covers are a specialized type of cover that can withstand the weight of people walking or standing on it. These covers are made of thicker and more durable materials than standard covers, and may also be reinforced to support the additional weight. They are commonly used in locations where the hot tub is likely to be walked on, such as decks or patios, and in commercial settings like hotels or spas.
It's important to note that while walk-on covers can support the weight of individuals, they are not designed for large groups or heavy objects. Always follow the manufacturer's guidelines for usage and maintenance to ensure the cover remains safe and functional. Read this article on our hard hot tub cover on Wholesalespacovers.com.
Why We Choose Wholesale Spa Covers For Replacements
We take pride in offering our customers the highest quality products at affordable prices. Here's why we choose to partner with wholesalespacovers.com for replacement hot tub covers.
Experts in Spa Covers: With years of experience in the industry, they know what it takes to create spa covers that provide ultimate protection. They strive to produce high-quality spa covers.
Hot Tub Cover Customization: They understand that every hot tub is unique, which is why they offer customizable spa cover options to fit every need. Whether you have an unusual-shaped spa or want to add a little extra foam – they can make it happen. Spa covers that are easy to add to cart!
Customer Service: We value our customers and we know that they do too. They provide exceptional customer service every step of the way when you're buying a new spa cover. From answering questions to helping you figure out how to measure for your new jacuzzi cover. Choose the right cover and keep that water hot and clean!