The saying "the more, the merrier" isn't just for parties — it's true for hot tubs, too.
With a hot tub that can accommodate six people, you'll be able to lounge with family and friends, comfortably kick back and even play some fun hot tub games.
Ahead, we'll show you three six-person spas that customers can't get enough of. With any of these hot tubs, your backyard is sure to become the next best gathering spot.
1. Hudson Bay HB19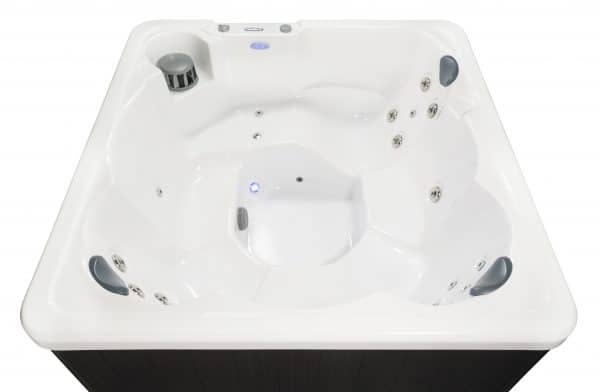 The Hudson Bay HB19 is a versatile hot tub that everyone can appreciate. With its range of high-quality features, sleek design and affordable price tag, you're sure to love it, too.
Plus, it can be plugged into any standard household plug, which means a fast and easy setup for you.
Its amenities include:
Nineteen stainless jets.
Relaxing backlit waterfall.
Multi-colored underwater mood light.
Balboa controls.
Ultra-efficient HeatFlow™ manifolds.
Comfortable lounge seat.
In the words of one happy customer, the HB19 is "very well-made and very low maintenance."
You should consider purchasing this spa if you:
Are looking for a high-quality spa at an affordable price point.
Don't want to pay for additional electrical work.
Want setup and installation to be as fast and easy as possible.
2. Dr. Wellness G-6 Tranquility Spa
Hot tub owners adore the Dr. Wellness G-6 Tranquility Spa, and we don't blame them. With its combination of extravagant features and exceptional value, what's not to love?
The G-6 is equipped with:
Waterproof Bluetooth audio system with built-in speakers and subwoofer.
Forty-eight black and chrome jets positioned to massage the neck, shoulders, calves and feet.
Calming waterfall.
Included spa cover.
Perimeter lighting for nighttime soaks.
Comfort cushion headrest.
User-friendly topside system controls.
Full foam insulation for maximum heat retention.
Factory-installed ozonator.
We think this customer put it best: "Incredibly powerful spa at an incredibly low price. Excellent quality, solidly constructed and exceptional comfort. You won't find a better hot tub at a better price."
Take a look at the G-6 if you:
Want a premium spa experience at a price you can afford.
Want plenty of room for family and friends to lounge.
Are looking for lots of high-end features.
3. Catalina Luxury Berkshire
For customers with discerning taste, it doesn't get much better than the Catalina Luxury Berkshire.
This spa simply has the best of everything, from its sophisticated design to its state-of-the-art features.
Its many amenities include:
A whopping 57 stainless and lighted jets.
LED backlit water spouts and cascading spillway.
Three LED water fountains.
LED backlit cup holder.
Included Balboa WaveTEC 254 UV sanitizer.
Included Clear View H-100 ozone sanitation system.
Cushy LED backlit magnetic pillows.
Gorgeous SynthaWood™ skirting.
Long-lasting Eternitree™ Forever Frame.
With the Berkshire, you won't just have a top-of-the-line hot tub — you'll have one of the best six-person hot tubs on the market, period.
One customer said that "after a long day, it's great to sink into our hot tub. Quality and good looks, this tub has both!"
You'll fall in love with the Berkshire if you:
Want the most luxurious six-person hot tub available.
Are looking for the most high-end features on the market.
Want a hot tub that can provide six users with ultimate comfort.
With any one of these fantastic six-person hot tubs, friends and family will be lining up to take a soak. Don't just take our word for it: look at any customer review and it's clear that these three spas are the best of the best.