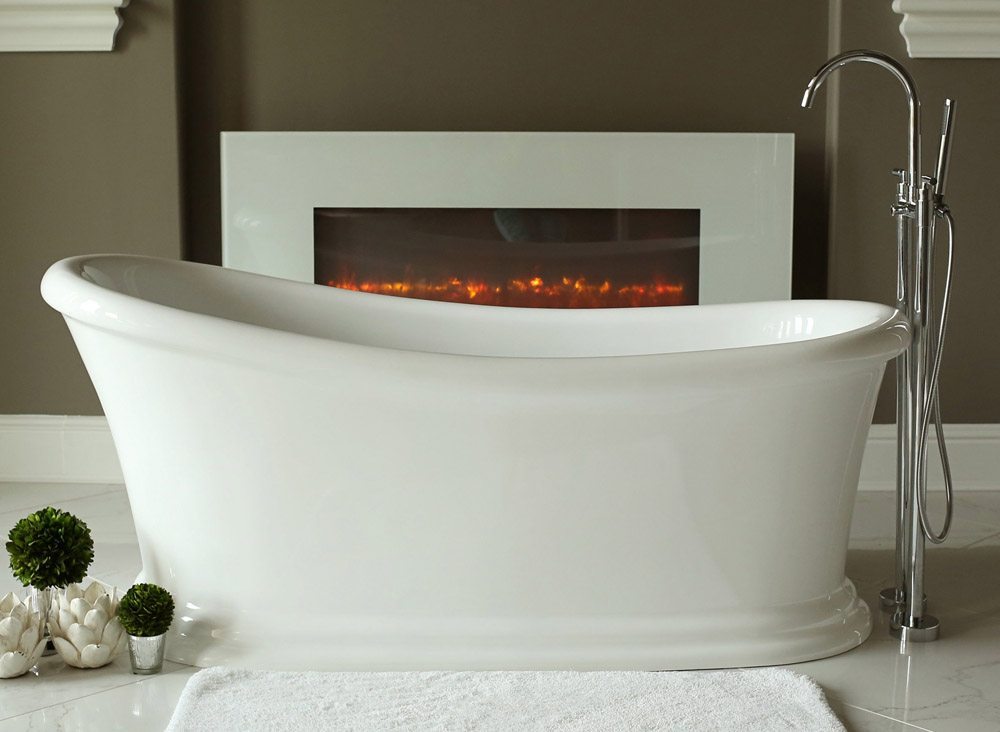 You've decided to replace a bathtub? It could be the time. Older tubs are heavy and sometimes difficult to deal with! But…
Baths are packed chock-full of benefits, whether from heat therapy, Epsom baths or milk baths. A simple soak in your bathtub can:
Improve sleep.
Boost circulation.
Reduce pain.
Soothe and hydrate skin.
For those who want a truly luxurious and therapeutic bathing experience, a new bathtub is a worthy investment.
But how much will it really cost to install or replace a bathtub? Keep reading to find out.
The Cost of the Bath
First and foremost, you'll need to take the price of your new bath into account.
While you might imagine that a new and high-quality bath will cost you many thousands of dollars, that couldn't be farther from the truth.
In reality, a wide selection of sumptuous tubs are available for approximately $350 to $2,000.
Here's a price breakdown of some premium-quality baths:
Soaker baths: $349 to $1,149.
Whirlpool baths: $399 to $1,499.
Air baths: $599 to $1,499.
Luxury baths: $1,348 to $2,248.
Luxury plus baths: $1,848 to $2,748.
So, whether you want to spend less than $500 or more than $2,500, there are plenty of fantastic options available.
Once you've decided which bath to purchase, factor its price into the total cost of installation and bath tub replacement.
The Cost of Installation and Replacement
If you're just starting to shop for a new bath, you may be considering removing your old bath and installing the new one yourself.
However, a DIY approach is not recommended unless you have prior experience in both plumbing and carpentry.
That's because bath replacement and installation both involve a multitude of important factors. From properly hooking up the plumbing lines to making sure the bath is secured to the walls, there are a lot of steps to consider.
If you're installing a tub that has different dimensions than your old one, this process becomes even more complicated.
So, the best course of action is likely to hire a professional contractor.
Just how much will that cost you? It all depends on the extent of the work that needs to be done.
To find the exact numbers, let's look at a 2019 article from HomeAdvisor titled, "How Much Does It Cost to Replace or Install a New Bathtub?"
There, it's stated that the typical price range is $1,040 to $5,399. On average, the total cost is about $2,838. At the time of writing, those prices are based on the actual costs reported by 1,951 HomeAdvisor members.
So, you can expect the cost of replacement and installation to come out to approximately $3,000.
If your bathroom will require additional modifications in order to accommodate the new tub, the cost will be higher. To get an exact cost, contact a local contractor to receive an estimate.
The Bottom Line
Once you know the price of your new bath and receive an estimate for the cost of bathtub replacement and installation, you can add those two numbers together to get your final price tag.
For example, if you're paying $1,000 for your new tub and $2,500 for replacement and installation, your total cost will be $3,500.
Although the price of replacement and installation might seem intimidating at first, remember that your new bath won't only provide luxury and relaxation; it will also give you a wide array of tangible health benefits, and can even add value to your home.
With these factors in mind, you're ready to make an informed decision about your brand new bath. Once your old bath is out and your new bath is in, all you'll have to do is break out the bath bombs and enjoy a long, well-deserved soak.