You're looking for the best hot tubs under $5000 because you need a great way to relax after a long day of work or play. The hot water and jets create an amazing feeling that you can't get from any other type of bath.
You're probably thinking hot tubs are expensive. There's no way you could afford one. You'd never get approval from finance. We've heard all kinds of reasons from customers over the years about why they didn't think it was the right time for them to buy a hot tub but when they get in touch with our finance department or get on the phone with a salesperson they realize there are affordable options that will meet all their needs and flat out make their lives better!
So, for those who are on a budget, and thinking it may be difficult to find a hot tub that fits their needs without breaking the bank – this post is for you! We'll tell you what to look out for in your search for the perfect hot tubs under $5000 dollars – and in the end, hopefully, help you believe in yourself and your future enough that you'll know you deserve one!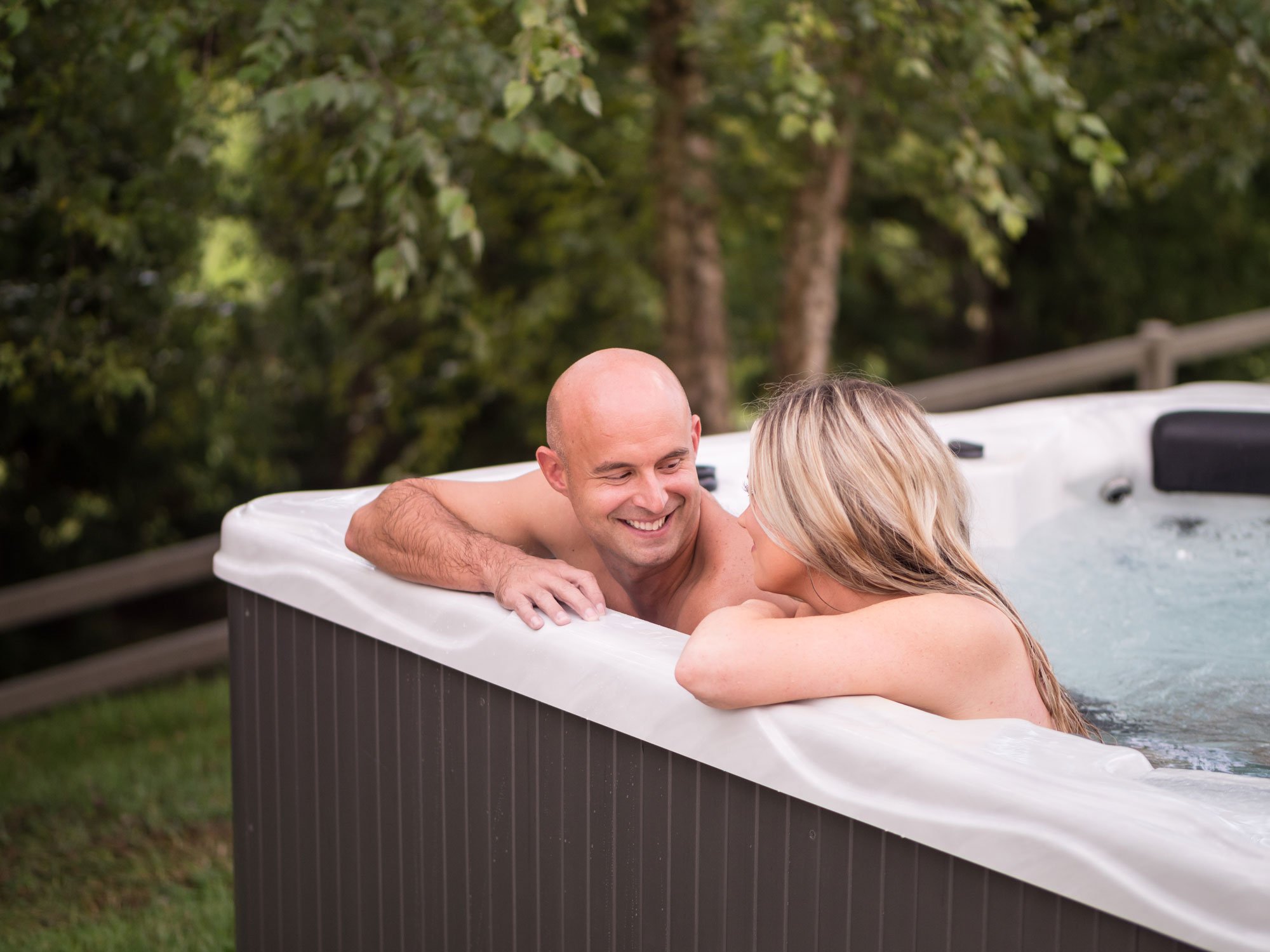 What size hot tub can I get for under $5,000?
The first thing you want to consider is size. How many people will be using the hot tub on a regular basis? What are the dimensions of the space you have available for it? If you don't have much space, there are plenty of options for small hot tubs that will still fit all of your needs! You can usually find great 3 person and 4 person hot tubs under $5000 and we even have a hot tub that seats 6 for under $5k.
How will you use your hot tub?
Next, think about how much time you plan on spending in the hot tub. If it is just for relaxing and unwinding at the end of a long day, something basic will work great! But if you plan on using it as your main source of relaxation or entertainment during your free time, then you'll want to go with one that has some added features like a built-in stereo system or waterfall.
Roto mold or Acrylic?
Hot tubs under $5000 will include roto mold or acrylic models. Both are good choices, but you should know a little about each.
Rotational Molded Tubs – These tubs are made using a single piece of polymer plastic to create the shell. This makes them cheaper to produce. This style of hot tub is very durable and is often offered in 110V models, which don't require an electrician for installation. 
Acrylic – Acrylic tubs are made using a sheet of acrylic that is molded into a shell through various different means. It is then reinforced and added to a frame and cabinet. These spas are also durable and offer a smooth, designed finish. These spas can be harder to move, and also are more expensive. You'll also find that many of them are 220V hot tubs. 
Quality
When looking for a hot tub under $5,000 you want to make sure to get one that is of good quality. This means finding one that is made with durable materials, has a strong frame, and comes with a warranty. 
Maintenance
Another important factor to consider is how easy the hot tub is to maintain. This includes things like how often it needs to be cleaned, how often the filters need to be replaced, and how difficult it is to access the pump and other components for repairs or maintenance.
Jets
How many jets your spa has will help determine its affordability. Consider how many jets you need. The more jets you have, the more your tub will cost. If you're on a budget, go for the number of jets you need to massage the parts of your body that trouble you and any other frequent users of your hot tub.
Inflatables Hot Tubs
Inflatable hot tubs are a great option for those who are on a tight budget. They are much cheaper than traditional hot tubs and can be set up quickly! Inflatables are also highly portable. However, there are some drawbacks to consider before purchasing one.
The main downside to inflatable hot tubs is that they often do not come with some of the features that traditional models have like massage jets or LED lighting. They do often offer air jets, which create air bubbles to give the tub a "bubbling" effect. Inflatables are also not as well insulated which can lead to higher heating costs. You can find many inflatable hot tub models for under $1,000.
Just because you're on a budget doesn't mean you have to settle for less than quality. When you know what you need, and what to look for, you can find a great hot tub at a price that works for you. 
We hope this post has been helpful in your search for the perfect hot tub under $5000 dollars! Relax and enjoy and remember, our finance team can help you get a great rate and have you creating a perfectly relaxing nightly routine!
WHAT OUR CUSTOMERS ARE SAYING
WHAT OUR CUSTOMERS ARE SAYING
Some kind words from our happy hot tub owners!