You have a friend or loved one that owns a hot tub, and you want to buy them the perfect gift. But where do you start?  Where do you find the best gift ideas for hot tub owners?
That's where we come in. Here are five of the best gift ideas for hot tub owners:
5 Best gift ideas for hot tub owners
Aromatherapy oils or crystals.
Luxe accessories.
Waterproof playing cards and games.
Outdoor lighting.
Underwater or floating lights.
P.S. If you own a hot tub, these gifts are also a perfect way to treat yourself.
1. Aromatherapy Oils or Crystals
Aromatherapy oils and crystals are easily available and inexpensive, yet they have the ability to instantly transform a standard hot tub into a luxurious retreat.
As we explained in our previous blog post, "The Secrets of Hot Tub Aromatherapy," many aromatherapy scents have their own unique benefits. These are just a few examples:
Lavender: Reduces stress and encourages relaxation. May also help relieve symptoms of anxiety, depression and insomnia.
Eucalyptus: Refreshes both the mind and the senses. Can also help to clear the respiratory system.
Chamomile: Promotes relaxation, and may also help to relieve the symptoms of eczema and psoriasis.
Thyme: Can reduce nervousness, fatigue and stress.
2. Luxe Accessories
While hot tubs provide an indulgent experience on their own, the right accessories can make them even better.
Hot tub owners are sure to appreciate any of the following accessories:
Pillows: Cushioned spa pillows are perfect for relieving neck pain and providing additional comfort.
Steps: A set of hot tub steps makes it easier to enter and exit the hot tub. Plus, with a variety of beautiful colors available, they can enhance any landscaping and decor.
Cup holders and trays: With a cup holder or tray designed specifically for use in a hot tub, drinks and snacks will never be out of reach.
3. Waterproof Playing Cards and Games
Playing cards and games can make any hot tub even more fun. Luckily, there are several waterproof hot tub game products available, such as:
Playing cards
Board games
Dice
Floating beer pong tables and rafts
These can be used to play a number of entertaining games, including:
Hot tub pong
Cards
Submarine
Cold shower
Who am I?
For more on how to play those games, take a look at our article, "5 Hot Tub Games for the Whole Family."
4. Outdoor Lighting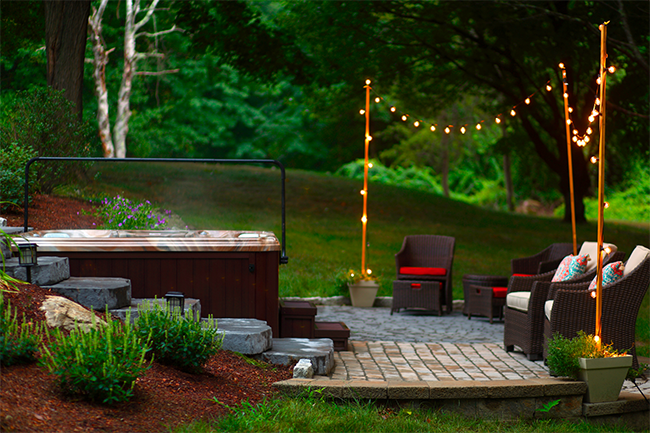 Outdoor lighting makes a fantastic gift for two reasons. First, it can make each hot tub experience more romantic, memorable and luxurious. Second, it can transform an entire backyard into an oasis.
For the hot tub owner in your life, consider getting any of these types of outdoor lighting:
String lights.
Path lights.
Tiki torches.
Ornamental lights in fun shapes and colors.
5. Underwater or Floating Lights
If you're looking to light up your recipient's world, try shopping for some underwater or floating lights.
With the right ones, a hot tub can transform into a colorful paradise, an aquatic disco or both.
Many different models are available, including:
Floating spheres.
Floating LED tea candles.
Floating flowers.
Submersible light strips.
Underwater disco balls.
With so many gift ideas, you're sure to find something that your recipient (or you!) will love. Whether your choose aromatherapy products, underwater lights or anything in between, any of these gifts will be a hit.