Are you looking for hot tub landscaping ideas on a budget? Even if you purchase the most gorgeous hot tub in the world, it will likely stand out from its surroundings unless you get creative with landscaping.
In this blog post, we will discuss some simple ways that you can improve the look and feel of your backyard oasis. Whether you have a brand new hot tub or an old one that needs some TLC, these ideas will help get the most out of your investment!
One of the first things to consider when landscaping around a hot tub is privacy. If you live in a neighborhood with close neighbors, you may want to consider plants or fencing that will help screen your hot tub from view. Bamboo is a great option for this, as it grows quickly and can be easily shaped to fit your space. There are also many varieties of evergreen trees that can provide year-round privacy without blocking too much sunlight.
Finally, you'll want to think about the overall look and feel of your hot tub landscape. Do you want it to be a relaxing retreat or an inviting party space? Consider adding soft lighting, comfortable seating, and soothing plants to create a tranquil oasis. Or, go for a more festive look with colorful flowers, string lights, and fun outdoor games. No matter what your vision is, there are plenty of ways to achieve it on a budget!
See how Tim Ferris uses a nightly soak in his evening routine to guarantee less stress and better sleep!
Now that you have some hot tub landscaping ideas on a budget in mind, it's time to get started! With a little planning and creativity, you can transform your hot tub area into the backyard retreat of your dreams. So what are you waiting for? Get started today!
If you're running short on inspiration, don't worry: here, we'll show you four beautiful (and easy!) hot tub landscaping ideas you can use to transform your yard into a personal retreat:
Add some shade.
Liven up your space with plants.
Create a backyard lounge.
Use stylish accessories.
1. Add Some Shade in Your Landscaping
With the addition of a little shade, you do more than just protect your hot tub from the sun. Many shade-creating options can also bring your landscaping together and integrate your hot tub into the yard.
For instance, you could install a sleek pergola like this one: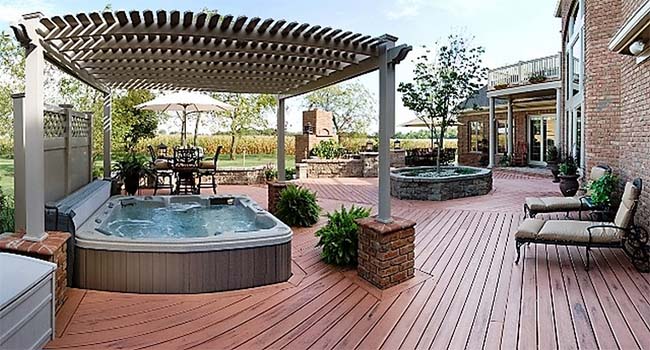 Or, you could opt for a romantic gazebo like this:
Other options include shade sails, pop-up canopies or pull-out shades. Choose whatever works best with your style.
If you're unsure whether a gazebo or enclosure is right for you, head over to our previous blog post to find out.
2. Liven Up Your Space With Plants – Make a Backyard Oasis
One of the best ways to breathe life into an outdoor space is to incorporate some greenery and flowers.
When it comes to adding plants to your landscaping, the possibilities are endless. From zen-style gardens to vibrant flowers to elegant topiaries, the choice is yours.
We love how this backyard uses lush tropical greenery to enhance a small hot tub: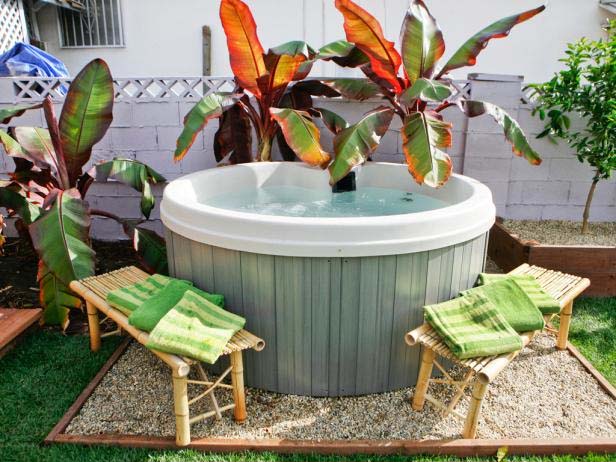 Alternatively, you could use a trellis to bring the greenery right up next to your hot tub. As an added bonus, a strategically placed trellis can even double as a hot tub privacy screen:
3. Create a Backyard Lounge Around Your Hot Tub
If you incorporate your hot tub into a backyard space that can be used for lounging and entertaining, you'll be able to create a truly stunning backyard.
To get started, think of the elements you'd like to include. For example:
Lounge chairs.
An outdoor fire pit.
Patio furniture.
A colorful patio umbrella.
If you'd like, you can go the whole nine yards with a custom-built lounge area like this:
Or, you can keep it simple and low-cost with a few color-coordinated pieces of furniture:
No matter your budget or time constraints, there are options out there for you.
4. Use Stylish Accessories
One of the easiest ways to improve your backyard landscaping with your hot tub in mind through the use of some attractive accessories.
For instance, you could add some chic spa steps:
Or, you could equip your hot tub with an elegant and convenient bar:
Let's take a look at what makes a good backyard bar. A bar is a great addition to any home, but it's even better when you add a hot tub to the mix. Not only does it provide a place for your guests to sit and relax, but it also gives them something to do while they're enjoying their drinks. Plus, it can be used as an entertaining space when you have parties or other gatherings.
Have the bar but you're looking to make it even better? How do you do that? By adding a hot tub, of course!
No matter which landscaping ideas you choose to run with, you'll end up with a backyard you'll be proud to show off (and a hot tub you can't wait to use).