When it comes time to buy a hot tub, most people don't know where to start.
There are so many different brands and models on the market, it can be difficult to figure out which one is right for you.
We will discuss some tips for finding the best price hot tubs and give you some hints on what to look for when you start shopping, so you can make an informed decision on a hot tub that meets your needs and budget!
The first step in finding your perfect hot tub for the best price.
The first step in finding the hot tub with the best price is to decide what type of tub you want.
There are three main types of hot tubs: a portable hot tub, an inflatable hot tub, and in-ground hot tubs.
Each type has its own set of pros and cons, so it's important to think about what you need before making a decision.
We really like the durability and ease of use of our portable hot tubs but we love the aesthetic you can get with in ground hot tubs.
Inflatable hot tubs are great if you plan on taking your hot tub with you if you're traveling but we prefer the durability of our acrylic or roto-molded hot tubs.
How to create a backyard oasis with your own hot tub!
Our hot tubs come with features that will make your backyard an oasis – with jets that give you a perfect massage and lumbar support to ease your aching back.
These hot tubs are also energy efficient and can seat more than six adults. That's perfect for a party or you can snuggle up in the corner if it's just you and your person.
Your hot tub your choice! We love the option of having a lot of seats and plenty of space so we can spend time with our favorite people and relax but also feel like we're having a mini vacation every night in our own backyard.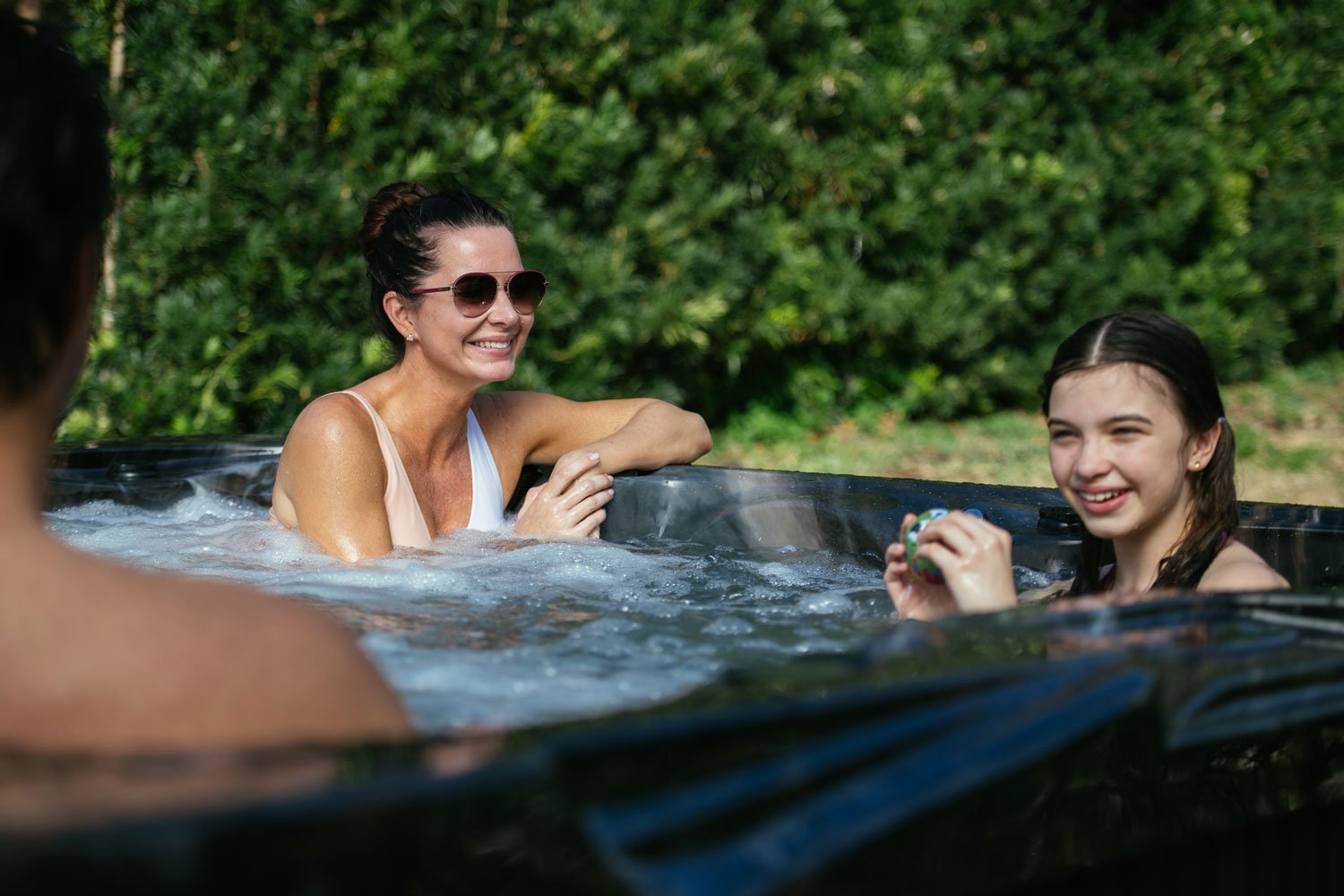 Where to shop for the best hot tubs
Once you've decided on the type of hot tub you want, the next step is to start shopping around. The best place to start your search is online.
We've created a custom spa selector to help you find the best hot tubs for you.
Just answer a few simple questions and we'll show you all the hot tubs with the options you want like massage jets, lounge seating, waterfall feature, led lighting, locking cover, ozone purification system, and full foam insulation.
We do sell a few of our hot tubs online but we also have hot tub stores across the country so you can go in and see them in person.
Our reps can help you figure out the finer details, advice on which hot tubs should make it on your top pick list, where is the best place to install the hot tub on your site, and recommendations for how to make your ground level and ready for your install day.
Does time of year matter when searching for the best price?
You might hear that there is a better time of year to buy a hot tub.
We've been asked "What month is the best time to buy a hot tub?" so many times that we've written another post about it.
You should read the post When Is The Best Time To Buy A Hot Tub?
Hot tubs typically are priced to move all year. That's great news for you! You don't have to worry about if right now is the time to buy – because it is.
Not just because we offer such low prices all year but also because you don't want to spend any more time in constant pain and with our hydrotherapy jets you can end every long day with a soak of pure hot water bliss.
Does the price of your hot tub mean you get fewer features?
We do our best to make affordable hot tubs with the most features we can pack in there!
Massage jets, waterfalls, led lighting – you name it, we've got it. We do our best to give you options all across our hot tub lines but there are obviously certain features that come with getting and higher-end model.
Choose which features and size of hot tub is right for you and that can really help point you in the right direction. Do you want to fit four people or six people? Do you care about the number of jets or jet configurations more? Maybe you only need a two person hot tub?
What key features should you look for in your perfect hot tub?
There are a few key factors that make a good hot tub one of the best hot tubs for you:
First, it should be big enough to fit all of your friends and family.
Second, it should have lots of cool features like jets and lights that can make your experience more enjoyable. We like Bluetooth audio in our hot tubs. It's great to slip below the water in your own personal hot tub and listen to your favorite podcast or audiobook. Yes, please!
Third, the hot tub should be made from high-quality materials that will last for years.
Whatever you choose, a hot tub can change your daily routine. Give yourself some space from the pressures of life and just spend a minute with yourself and relax.
Let the hot water and massage jets melt your stress away.
Pure bliss.
A hot tub can really make a difference in your life.
We've gotten hundreds of reviews from users who swear that spending time every night getting massaged by our hydrotherapy jets has changed their life.
It's no secret that hot tubs are relaxing.
But what you may not know is that they can also help ease pain that you have every day, especially back pain.
Which we know so many people deal with. Office work, being at a desk or being on your feet all day, lifting heavy things – it can all lead to chronic back pain.
Hot tubs work to relieve pain in a few different ways.
First, the hot water relaxes your muscles and helps to loosen up knots and tension.
Second, the jets provide a deep-tissue massage that can loosen up tight muscles and improve circulation.
And third, the heat from the water helps to soothe inflamed tissue and reduce swelling.
If you're dealing with back pain, then a hot tub may be just what you need!
Read this review from Margaret F who uses her hot tub to make every day just a little bit better!
"You can't beat the feeling of coming home after a long day and relaxing in a hot tub! I have a lot of lower back pain from sitting at the office all day and this hot tub has dramatically helped the stress and tension!
I didn't have any issues with delivery and the setup was painless. I am very pleased with my purchase and I know it's something my family will enjoy for years to come."
Hot tub maintenance and price.
Sometimes the price you pay for a hot tub can increase over time.
That's why we work hard to give you features that will help lower the time you have to spend on maintenance and lower the cost of use and operation.
Hot tubs require maintenance. You can't get around it!
Good filters and an ozone purification system can greatly reduce the maintenance of your hot tub water.
It can also really help keep everything energy efficient and keep your water clean.
If you choose one of our Catalina Luxury models – they come with our patented Tuff Top hard top hot tub cover.
They are so easy to open and come with a lifetime warranty (which if you've ever owned a hot tub then you know how big a deal that is!)
Found the hot tub you're interested in?
Once you've found a few hot tubs that you're interested in, it's time to start comparing prices.
We can guarantee that you'll find the best hot tubs at the best prices at Aqua Living Factory Outlets. We work hard to make sure that happens!
When you're ready to buy, it's important to remember that the price isn't everything.
You also need to consider the quality of the hot tub, as well as the customer service that you'll receive.
Our Catalina Luxury line comes with the industry's only 24/7 technical support.
So if you have a question about how your jets work or maybe a question about your hot tub's control panel and it's after hours – then you don't have to worry.
Make sure that you take all of these factors into account before making your final decision.
By following these tips, you'll be sure to find the best-priced hot tub for your needs.