A Hot Tub is one of the best ways to unwind after a hard day. They have several health advantages, such as reduced stress, less discomfort, and better sleep. Having one is similar to having a private spa.
A hot tub has heated water that can accommodate at least two people. Hot tubs, as opposed to regular bathtubs, are made to accommodate many users at once. They can be used for pleasure, relaxation, or hydrotherapy. So how do you choose the right hot tub for your needs?
Hot tubs have an exterior cabinet that keeps the shell firmly in place. The part of the hot tub that houses the water inside is called the shell. Moreover, hot tubs contain pumps that move water into and out of the tub, jets that soothe tired muscles, and filters that maintain and keep your hot tub sanitary. Most hot tub owners install them outside on their deck or patio because hot tubs are large and tend to splash water around. Both above-ground and in-ground tubs are possible, with above-ground tubs being the cheaper choice. Accessibility is crucial since hot tubs require annual maintenance.
Why Should You Purchase a Hot Tub?
One of the best investments you can make for your body, mind, and home is purchasing a hot tub, which is frequently regarded as a large purchase. There are numerous reasons to consider purchasing a home spa, so it's critical to know what you want, what advantages are available to you, and how to choose the hot tub and accessories that fully satisfy your needs.
There are several ways that using a high-quality hot tub can benefit your health. Hydrotherapy is known to enhance physical functioning, restore range of motion and lost flexibility in muscles and joints, lessen headaches, burn calories, increase insulin sensitivity, aid in restful sleep, relieve aches and pains and promote relaxation.
Choosing The Right Size
When considering the hundreds of options, accessories, and pricing ranges, choosing the best hot tub may appear intimidating. Selecting the best spa brand for you can take some time because hot tubs vary in size, amenities, and price. But once you find the right hot tub, you'll be glad you took the time to consider your options. Spending time in your hot tub regularly as a family will become a tradition everyone will love. All generations of the family can unwind and enjoy each other's company together in a hot tub. Time spent together develops relationships within the family and creates enduring bonds. Conversations give everyone in the family a sense of importance, boosting confidence and encouraging good habits at home and school.
Read Hot Tub Reviews
It's crucial to read about other people's spa experiences before investing. Find someone with a similar lifestyle as you and keep their feedback in mind as you start your search. Remember that not all reviews should be considered equally. Read both the positive and negative customer feedback equally, and try to find the common threads to determine if a hot tub is the right choice for your family.
Materials Used
Frames made of wood or metal are frequently used to construct conventional hot tubs. These frames support the shell, the plumbing, and the insulation and also shield the components from the weather. Most spa businesses concentrate their creative efforts on the piping that drives the jets and the shell—or interior—of the spa, which is often constructed of acrylic. But, if your hot tub is outside, there are additional aspects to consider, such as rain, snow, and sunlight. Both metal and wood frames are susceptible to decay, so it's important to choose the right material and know how to maintain it.
Consider The Installation Location
What location do you want the hot tub? Most spas are situated outside, frequently on a patio or deck rather than having in-ground hot tubs. Moreover, you can install your hot tub either partially or fully in-ground. Some folks even install their hot tubs inside. Once you have determined your spa's location, you must take precise measurements of the area to ensure that any hot tubs you choose will fit within those constraints. Think about the requirements needed for any optional spa elements you might desire, like steps or cover lifters. Although circular or triangle-shaped spas are also available from select brands, square or rectangular hot tubs are the most common hot tub shapes, so that is the shape you'll want to consider when planning where to place your hot tub.
Number of Jets
Choose a jet that will best meet your massage demands. Some spas feature replaceable JetPaks while others use stationary jets. Although built-in jets are typically pre-installed, it is always advisable to learn more about them, identify the muscles they target, and determine whether they have many settings or speeds to ensure you choose the right jet option. Verify the spa has jets that will precisely touch the area where you need it if, for example, you suffer from lower back pain. Ask about the choices if you frequently experience neck or shoulder pain.
A range of jet sizes and types that are set strategically will provide the ideal therapeutic experience. Remember that just because a spa has more jets doesn't mean it is more therapeutic. When there are too many jets competing with one another, you will eventually start to lose jet power, so choose your jet placement based on your needs.
Seating Arrangements & Layout
Common questions about spa seating include: Can we get a spa seat? Is it possible to place jets on the seat? Is it necessary to add some cooling seats? Do we want lounge seats for our feet? Who uses the spa and what type of seat is best for them? Can we find the seat height to accommodate everybody, including kids? 
Aqua Living offers a variety of seats to accommodate families and groups, no matter what configuration you need.
Additional Features
Many hot tubs include extra features in addition to jets, such as basic water care systems, in-spa audio, and remote control operation of the spa. They are made to improve your spa visit and make maintenance simpler. Before making a purchase, it's a good idea to decide what features you want to avoid getting unnecessary frills or omitting features you need. Consider your therapy requirements and the amenities you'd like in your spa package.
Lighting
Are interior and exterior lights included with the model and brand you're considering? Examples of spa lighting include the extensive full-color in-spa lighting, back-lit water features, lighted cup holders, power indicator light, and exterior sconce lighting for safety.
Water Features
Want to take your relaxation to the next level? A soft waterfall will truly complete the ambiance of your spa. You will enter a serene, peaceful state of mind due to the soothing sounds of flowing water and the gentle swirls it creates on the surface of your hot tub. When making a purchase, compare the various spas' water feature options to find the one that's right for you.
Hot Tub Cover
Beyond just keeping leaves out, your spa cover has many other purposes. Ideally, it should be constructed to keep heat inside, reducing the energy needed to keep the heater running continuously. Your cover should be constructed to resist the elements and make your spa look great while it's not in use.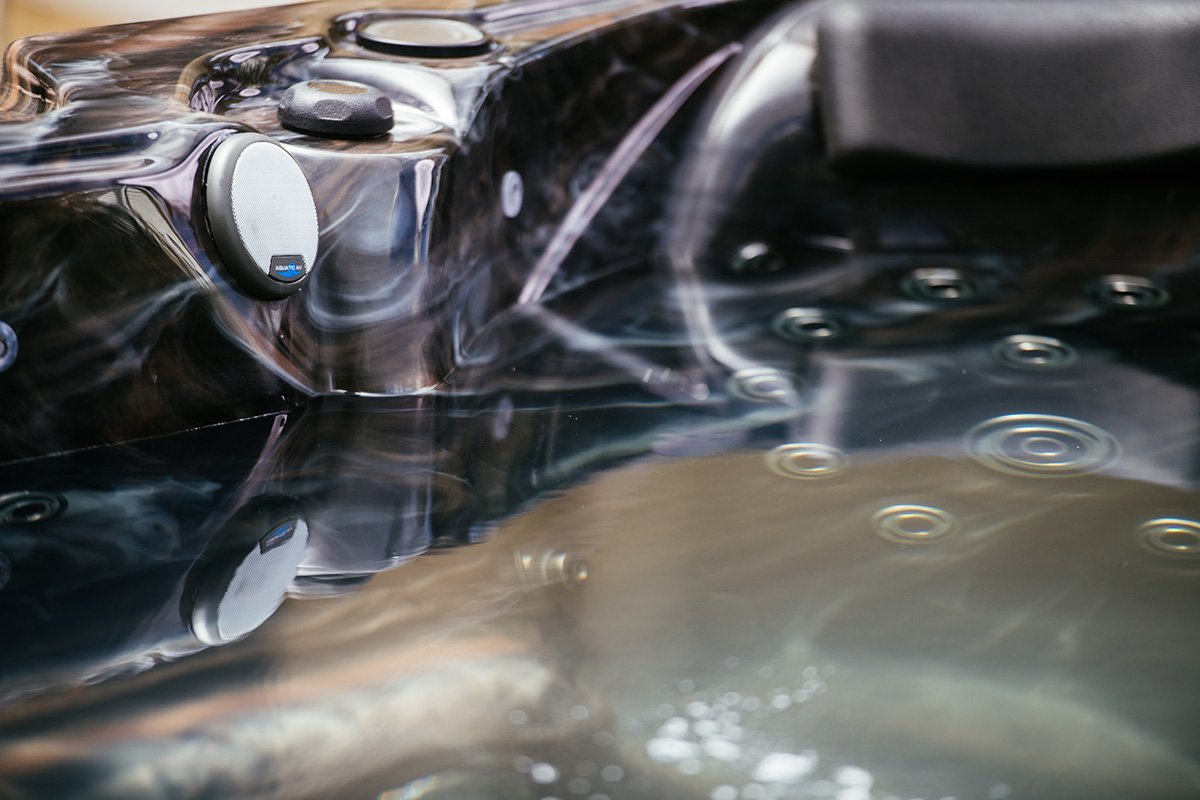 Audio Systems
Add a soothing soundtrack to your relaxation therapy session to make it more effective. Does the spa you're considering provide the option of integrated audio? When you relax in your hot tub or host a hot tub party, soothing music can help you let go of your tension, while upbeat, entertaining music will keep your visitors entertained. You can choose from various audio packages, including deep, rich sound, seat-surround speakers, a handy spot to rest and charge your preferred electronic device, an in-spa subwoofer, and simple Bluetooth connectivity for your phone or digital audio player.
Conclusion
There are many things on your mind while you shop for a hot tub. For instance, you may focus on the right size hot tub to buy, whether to use bench seating, or what type of sound system will elevate your spa. To make the best choice of hot tub, it's important to understand the advantages of owning a hot tub. Consider the hot tub cost, hot tub jets, cover and maintenance solutions, and any amenities you may want. We hope this hot tub buying guide has helped you learn about what to look for in a hot tub.
Aqua Living provides unmatched quality hot tubs to choose from. We have various portable hot tubs and permanently fixed hot tubs. When you purchase a hot tub with us, we'll help you through every step of the process. Whether you want a large or smaller hot tub, we have it all. Our hot tubs have the latest technology and come loaded with extra features and spa-like amenities. Contact us today to choose us as your trusted hot tub dealer!