The Last Cover You'll Ever Need to Buy
Hot Tub Cover with a Lifetime Warranty
We make a hot tub cover with a lifetime warranty! We know you are sick of buying hot tub covers that only last a few years. You're tired of sagging, rotting, smelly covers that need to be replaced every year or two because they're too heavy for one person to lift by themselves. You're sick and tired of looking at your water-logged cover when it's raining outside and all the rain is pooling on top of the cover. There's a lot of problems with older hot tub covers but we've got a solution! The Tuff Top Hot Tub Cover with a lifetime warranty is an innovative design with features designed specifically to combat these problems. Never buy another cover again! Let's take an in-depth look at the last cover you'll ever need: The Tuff Top Cover!
Lifetime Warranty
The Tuff Top Cover comes with a lifetime warranty! Our Tuff Top Cover is proudly crafted in America. We're so confident in the quality of our product that we're willing to offer this unbeatable warranty.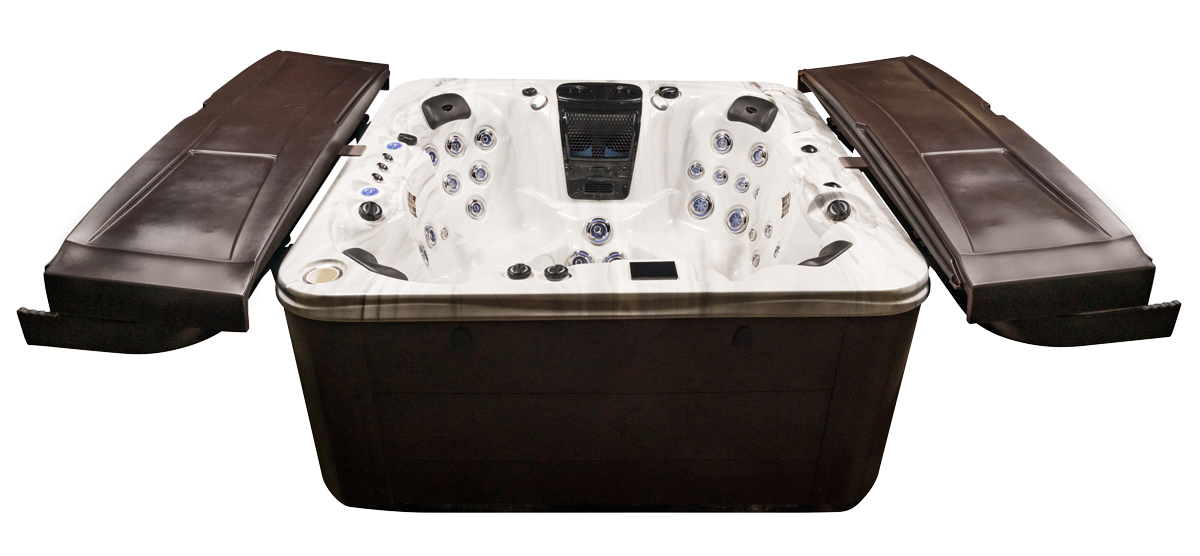 Shelf/Bar Conversion
The Tuff Top Hot Tub Cover also converts into a shelf or bar! This is a great feature for those who want to use their cover as extra storage space. Ice cold drinks will be right at home sitting on the opened cover, right within arm's reach. You can also put your towels and anything else you may need for your soak conveniently on the cover. No need to have to get out and go get anything, just grab it from the comfort of your hot bubbly oasis.
Positioning
By design, The Tuff Top Cover will not block your view when opened. It will conveniently retreat down to the side of your tub, allowing you to get a good look at your surroundings while you soak. The Tuff Top Cover also stays horizontal. You won't need to bend over or put any unneeded stress on your back anymore. This combined with its easy opening and closing action make the Tuff Top hot tub cover a breeze to open and close. We all know what it's like to try to lift a heavy hot tub cover by yourself. Sometimes it feels impossible! You no longer have to worry about an hot tub cover lifter – with the Tuff Top anyone can lift this and be in the tub in no time!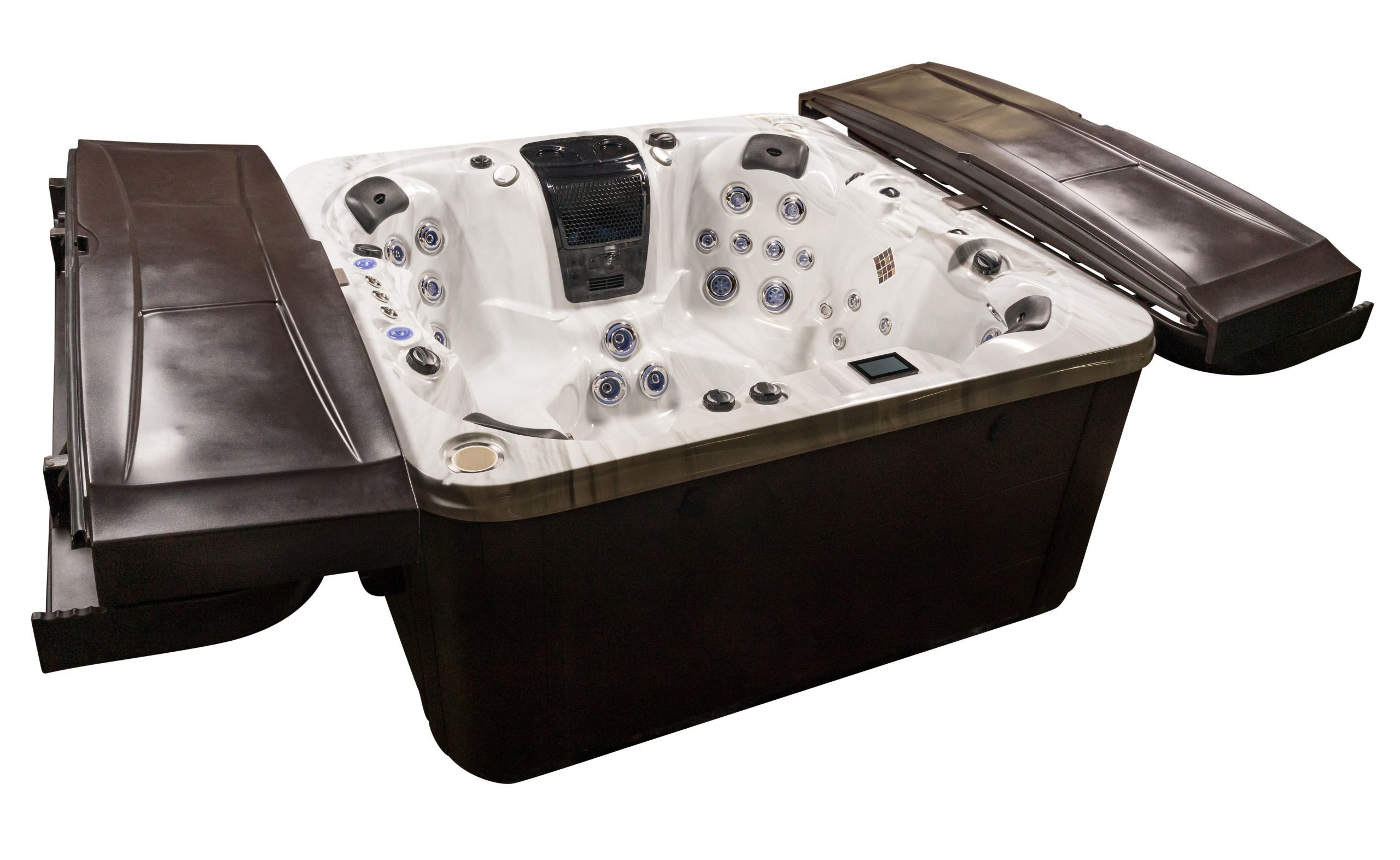 Holds up to 1,000 pounds
Our Tuff Top Cover is as tough as its name implies. It can hold up to 1,000 pounds! So whether you're in an area that snows a lot or you happen to have kids or grandkids that get a little rambunctious and jump up on top of your hot tub cover, the Tuff Cover has your back. It can withstand the elements, won't get waterlogged and won't cost you another couple of hundred dollars in a few years. We all love saving money!
Completely Insulated
The Tuff Top Cover doesn't just look good, it performs. It is fully insulated to help save energy and protect your hot tub from the elements. It will keep the heat in and the cold out. Your cover is the most important part of your hot tub for retaining heat, and with the Tuff Top, you have the best for life. Save that money you would otherwise spend on heating your hot tub and go out to dinner, or better yet, get dinner delivered to your house and spend an evening with your spouse relaxing in water heated to the perfect temperature with your favorite music playing. Making memories is important and we are excited that we can be a part of it!
The Tuff Top is available on our Catalina Luxury brand!
Gasket Sealed
Worried about water getting in your tub? Don't be! The Tuff Top is gasket sealed to keep out all water or any other liquid they may be spilled on it. When you shut your Tuff Top you can rest easy knowing each joint and gap are watertight!
Channel Flow Design
The Tuff Top has channels built in the cover itself. Any water that tries to pool up on top of the cover will be drained out to the side. This also comes in handy in the winter when snow piles up on your cover and slowly melts. The channel flow design combined with the excellent sealing creates a bulletproof system for keeping out that unwanted water that can throw off your PH balance and make your hot tub water need treatment.
No Rotting, Smelling, Or Sagging
Our injection molded cover will never rot, sag or smell. All of the insulation is inside the cover, protected from any harsh chemicals and water. You'll also never need to worry about it absorbing water and getting extra heavy. The Tuff Top Cover isn't just tough, it's got endurance to go with it!
No More Straps
Forget having to deal with unsightly straps. There is no need to strap the Tuff Top. It can withstand up to 65 mph winds completely unlocked. Our brackets are moved inwards to keep the corners of the cover sealed tight against the spa frame, keeping in heat and keeping unwanted debris and bugs out. No need for straps ever again. Makes a perfect addition to the high-end Catalina Spas.
Easy To Open
Easily open your Tuff Cover with just a few fingers thanks to the assisted lift arms. The aluminum arms connected to the cover and brackets are powder coated. They won't break and will not need to be replaced. The inside position of the brackets also help to keep pressure off of the arms, keeping them in great condition and making it easier to open your hot tub cover!
The Tuff Top Hot Tub Cover with lifetime warranty is the last cover you'll ever need. It not only protects and insulates your spa, but it adds ultimate utility and convenience. You'll never need to worry about purchasing another cover, the Tuff Top Cover is built to last. If for some reason you do need a new one, the lifetime warranty has got you covered! Our Tuff Top is available on our Catalina Luxury series hot tubs.