Although a hot tub is luxurious in and of itself, a few well-placed design ideas can go a long way toward making your backyard feel like a bona fide resort.
To upgrade your hot tub, consider these six decoration ideas:
1. Create a seating area.
2. Install an outdoor shower.
3. Add some mood lighting.
4. Use your green thumb.
5. Add a refreshment station.
6. Try a towel rack.
Let's dive into each of these ideas a bit further. By the end of this post, you'll be ready to take your hot tub to the next level.
1. Create a Seating Area
Image source: California Redwood Association, "Gallery"
To make your hot tub feel like an inviting space that anyone can enjoy, you can't go wrong with a comfortable place to lounge without getting wet.
The above image from the California Redwood Association is a gorgeous example of a hot tub-adjacent seating area.
If you have a large backyard, you can place your seating area either right next to or separate from your hot tub.
Both have their benefits: seating right next to your hot tub can be perfect for enjoying conversations in a large group, whereas a more separate seating area allows for more privacy.
2. Install an Outdoor Shower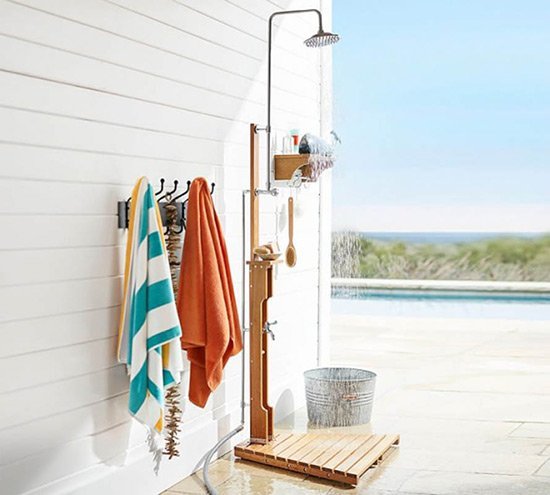 Image source: PotteryBarn.com, "Outdoor Shower"
For hot tub enthusiasts, there's nothing more practical and luxurious than an outdoor shower.
Don't think you have to spend a fortune on one, either. Although prefabricated options like the Pottery Barn one pictured above are available (and very convenient), there are plenty of guides on how you can build your own.
Just be sure to think about plumbing before you get started, and consider how you can make your outdoor shower match your desired aesthetic.
And remember, if privacy is a concern, you can always add a stylish enclosure.
3. Add Some Mood Lighting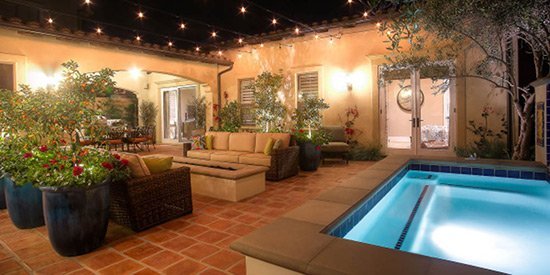 Image source: StudioH-Inc.com, "The Spanish Courtyard"
Whether you're aiming to create a setting that's ideal for a romantic date or a late-night party, the right lighting can make all the difference.
To get started, try placing some colored lights around the edge of your hot tub, or put some floating lights right in the water.
Alternatively, you can spruce up your entire backyard by adding some string lights. The above photo from Studio H is a stunning example of string lights being used to add a touch of rustic charm.
4. Use Your Green Thumb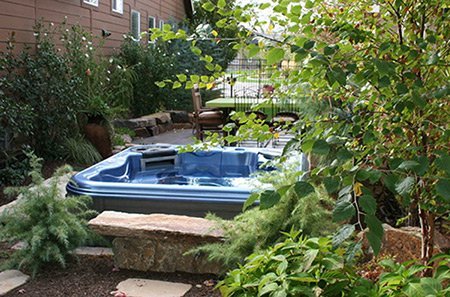 Image source: TheGardenArtistIdaho.com, "Portfolio"
Want your hot tub area to feel like the Garden of Eden? All you need to do is add a selection of your favorite plants, plus some rocks for good measure.
If you want a natural look like the one pictured above from The Garden Artist, try arranging your plants more sporadically and opt to include a multitude of species.
Or, if you're going for a more polished look, arrange your plants more symmetrically, and try to choose those that fit within a set color scheme.
5. Add a Refreshment Station
If you're tired of getting up to fetch drinks and snacks from the kitchen during a hot tub session, a refreshment station may be the best solution for you.
Plus, you can also use it to hold candles or electric lights, both of which can create a lovely and relaxed atmosphere.
You have the option to purchase a detachable hot tub drink table like the one pictured above from Anderson's Masonry, although you can also set your own table next to the hot tub.
Either choice will give you easy access to the things you need while simultaneously helping your hot tub look its best.
6. Try a Towel Rack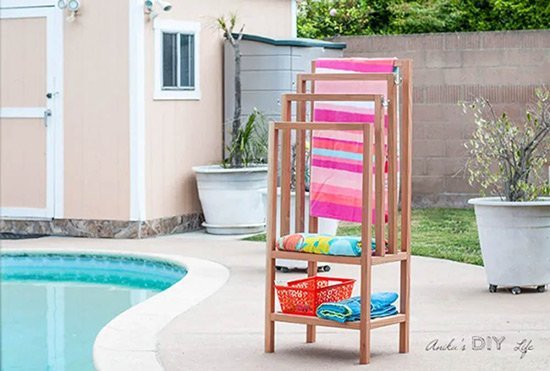 Image source: AnikasDIYLife.com, "DIY Outdoor Towel Rack"
Much like a refreshment station, a towel rack can serve as a hot tub decoration that's both visually appealing and convenient.
If you feel like tackling a project, you can try making your own towel rack — see the above photo from Anika's DIY Life for inspiration. Or, you can simply pick up a model from a home goods store.
If you plan on keeping it outdoors, just be sure that it's designed to withstand the elements.
With these ideas under your belt, you'll be well-prepared to design a hot tub area that's both beautiful and functional.