When you're comparing common bathtub materials and starting to select the right bathtub for your home – it can feel like a serious process. You likely have a specific size, style and color in mind that will perfectly complement your style and fulfill your bathing needs.
Before making your decision, consider this other important factor: the materials the bathtub is made with. Material affects appearance, durability, heat retention and more, so it's a significant factor in your long-term investment.
Here are the nine common materials used in bathtubs:
Fiberglass
Porcelain over steel
Acrylic
Cast iron
Solid-surface
Cast polymer
Ceramic tile
Stone
Wood
We'll cover the pros and cons of each one, and by the end, you'll be armed with the information you need to choose the best bathtub for your home.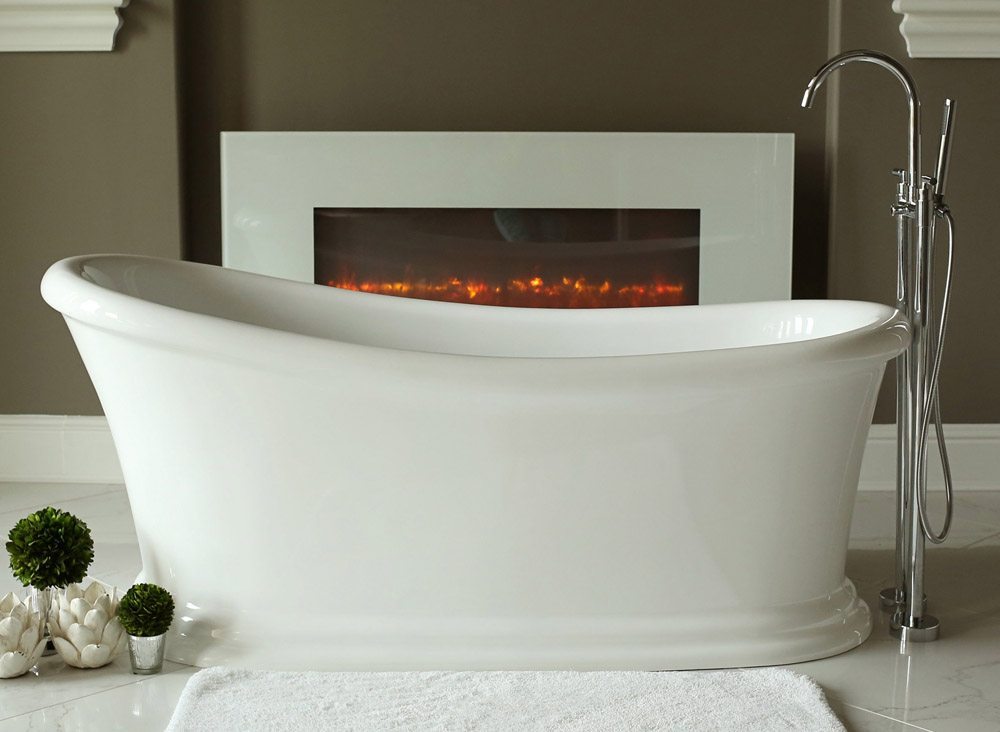 1. Fiberglass
Fiberglass is easy to install and maintain, but is among the least durable of bathtub materials.
Made of a fiberglass-reinforced plastic (FRP), bathtub fiberglass is layered into the tub's shape and then coated with resin.
Pros:
Inexpensive
Lightweight
Easy installation
Easy maintenance
Repairable surface
Cons:
Thin/flexible
Unstable feel
Surface fading/discoloration
Surface crack/scratch
Porous and brittle
2. Porcelain Over Steel
Porcelain over steel is long-lasting and affordable, but it's also heavier than fiberglass or acrylic and prone to rusting and chipping.
People often compare an acrylic vs steel tub. Both are durable and relatively affordable.
Also called enameled steel, this common bathtub material combination is a sheet of steel coated with porcelain enamel.
Pros:
Inexpensive
Long-lasting
Stable feel
Easy cleaning
Standard sizes
Chemical-resistant finish
Cons:
Limited design options
Surface chipping
Somewhat heavy
Exposed steel rusting
Heat loss
Sometimes noisey
3. Acrylic
Acrylic tubs are a durable material that comes in plenty of design options, but it is a little more expensive than fiberglass or enameled steel and can scratch with the use of certain cleaners.
In an acrylic bathtub, acrylic sheeting is molded into shape and reinforced with fiberglass for a strong, waterproof surface. It's really one of the most common bathtub materials.
Pros:
Not water-absorbent
Retains heat
Easy installation
Design variation
Lightweight
Easy repair
Relatively affordable
Durable
Cons:
Slightly unstable feel
Surface scratching
Chemical sensitivity
Lacks high-end appearance
4. Cast Iron
Cast iron is durable, efficient and classic. It's also quite heavy and expensive. Cast iron tubs are a true investment.
When comparing an acrylic versus cast iron tub – you'll often hear people discuss durability.
Cast iron tubs are made by pouring molten iron into a mold and covering that with thick, enameled porcelain, meaning a cast iron tub is going to last a long, long time.
Pros:
Durable
Scratch/chip resistant
Retains heat
Design variation
Resurfaceable
Classic look
Cons:
Extremely heavy
Require additional support
Expensive
5. Solid Surface
Solid surface materials are relatively new to the bathtub market. They are becoming one of the more common bathtub materials. They are durable and efficient, but also heavy and relatively expensive. Due to the newness of solid surface materials, it may be harder to find information or even place an order.
Comprising synthetic, polymeric materials, solid-surface bathtubs are available in a wide range of design types.
Pros:
Design variation
Durable
Retains heat
Repairable finish
Natural-look options
Cons:
Heavy
Expensive
Hard to get
6. Cast Polymer
Cast polymers, such as cultured marble, granite, or onyx, are relatively affordable and easy to maintain, but they can be brittle (slightly better than fiberglass) and develop cracks that can't be prepared.
The components involved in cast polymer include engineered natural stone and solid surface materials, such as limestone and resin. Typically, the materials are finished with a gel coat on top.
Pros:
Often affordable
Design Variety
Buffable surface
Easy cleaning
Stain-resistant
Relatively durable
Cons:
Can be expensive (cultured marble)
Sometimes brittle
Unrepairable cracks
7. Ceramic Tile
Ceramic tile offers the widest range of design and size options (thus, also price options), but it is relatively high-maintenance. Further, the unevenness of multiple, individual tiles and grout could be uncomfortable on bare skin.
Available in all shapes, sizes and colors, individual ceramic tile will need to be laid on a prepared surface with appropriate mortar and grout.
Pros:
Design variety
Can be inexpensive
Cons:
Complex installation
High maintenance
Can be uncomfortable
Can be expensive
8. Stone
Stone tubs have a high-end appeal and are a great investment, but they are extremely heavy and may require extra structural support and maintenance.
Your natural stone options may include granite, onyx, marble, basalt, sandstone basalt and travertine.
Pros:
Natural look
Custom-ordered
Sturdy
High-end investment
Cons:
Very heavy
Extra support required
High-maintenance
9. Wood
Wood bathtubs are unique, attractive, and customizable, but can cost a lot and require a great deal of maintenance.
Some of the woods you may select for a bathtub include African or Honduran teak, walnut, ash, cherry, and maple.
Pros:
Natural look
Custom ordered
High-end investment
Cons:
Expensive
High-maintenance
A bathtub is something you use frequently, and investing in durability is wise.
When doing a bathtub material comparison – weigh what is going to be best for you. We like long-lasting and low-maintenance bathtubs ourselves.
Fortunately, with a range of long-lasting, affordable options on the market today, you can find a bathtub that suits your style, needs, and budget.
Maybe you're interested in stepping up your backyard game? If so, why don't you look into one of our Dr. Wellness Hot Tub Recommendations?