When purchasing a hot tub, one of the most important things to consider is where you'll place it.
To help you make your decision, we've gathered the very best locations to place your hot tub:
Backyard
Enclosed porch
Deck
Custom outdoor enclosure
Gazebo
Let's go over each location in-depth to find the one that's best for you.
Backyard
One of the most popular places for people to place their hot tub is in their backyard, usually on a pad that's made from either gravel, stone or concrete.
This type of placement provides hot tub owners with a great degree of versatility since they're free to place their hot tub anywhere where a pad can be installed. Additionally, pads are relatively inexpensive to install, especially when compared to more costly and labor-intensive options.
If you're not keen on the idea of walking barefoot over grass and mud to get to your hot tub, you can also install a walkway leading up to it for a fairly low cost.
Enclosed Porch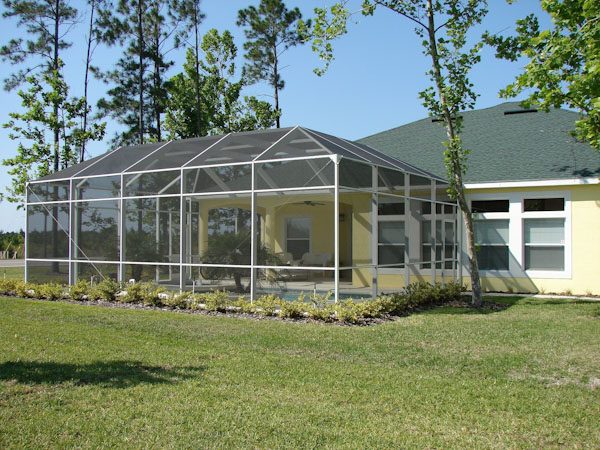 Placing your hot tub in an enclosed porch can be a particularly attractive option if you live in an area where temperatures drop significantly in the winter.
By placing your hot tub in a porch like the one shown above, you'll be able to enjoy your spa all year round without worrying about freezing pipes, insulation or long heating times.
Keep in mind, though, that the floor of your enclosed porch will likely have to be reinforced in order to support the weight of your hot tub and its maximum number of occupants.
Deck
Whether elevated or flush with the ground, an open-air deck can be a convenient and aesthetically appealing location to place your hot tub.
Just as with an enclosed porch, however, the floor of your deck will likely need to be reinforced to support the weight of your hot tub and its occupants.
One of the biggest benefits of placing your hot tub on a deck is that you can enjoy a hot soak in the fresh air without needing to walk barefoot over dirt, grass, mud or rocks to get there.
Custom Outdoor Enclosure
If you want the freedom to place your hot tub anywhere along with the privacy of a porch or gazebo, you might want to consider building a custom outdoor enclosure for your hot tub.
This will allow you to put your hot tub on any part of your property without sacrificing privacy or shelter from the elements.
Plus, installing a custom enclosure makes it possible for you to choose whether you want full or partial walls, how much sun and rain protection you want and the size of your hot tub area.
Gazebo
Much like a custom enclosure, a gazebo can afford you the ability to place your hot tub anywhere while still being able to maintain both privacy and shelter.
Unlike a custom enclosure, however, gazebos have a distinctive appearance which can instantly add an elegant and polished look to your space.
If you already have a gazebo, you'll need to have its floor reinforced in order to support the weight of your hot tub and its occupants, as well as cut in some places to accommodate your hot tub's plumbing and electric systems.
All of these locations can provide you with a relaxing and luxurious space to enjoy your hot tub, no matter where you live and no matter how big (or small) your budget.