Cheap Inflatable Hot Tub vs Non-Inflatable Hot Tubs
If you are in the market for a hot tub, chances are that you have considered an cheap inflatable hot tub. They are often less expensive than non-inflatable models and can be easily moved to different locations. However, this convenience comes at the cost of durability and performance. In this post, we will compare cheap inflatable hot tubs and non-inflatable hot tubs so you can make an informed choice about your purchase!
Hot Tub Overview
Inflatable hot tubs are typically made of PVC or vinyl and can be easily deflated for transport. While it is strong – you have to be careful during transport because inflatable hot tubs suffer from punctures which causes leaks. They range in size from small, single-person models to larger tubs that can accommodate a couple of people. Non-inflatable hot tubs are made of fiberglass, acrylic, or other sturdy materials and are not as portable as inflatable tubs. They come in a variety of sizes but are typically larger than their inflatable cousins due to their sturdy structure. This allows them to hold more people and have a lot more luxuries and more powerful massaging jets!
Performance of The Hot Tubs
Non-inflatable Hot Tubs – These tubs generally have better insulation and equipment, which makes them more efficient at heating the water inside them. With their sturdy frames, they can hold heavier more powerful equipment. These tubs also have comfortable seating and many features that add to your hot tubbing experience. They can have multiple pumps and a dedicated circulation pump, which makes them more efficient at keeping water heated. This, combined with their insulation makes them energy-efficient spas. They are sturdy and can be fitted with hearty covers for even more insulation and protection. 
Inflatable Hot Tubs – Inflatable tubs can perform well, however, they are poorly insulated. Even if they are insulated at all. This makes them bad at retaining heat and more expensive to keep heated. You will need to plan your hot tub soak, since they take longer to heat up. They will have a hard time reaching high temperatures in colder weather. These tubs have exterior components that house their pumps and filtration systems. These are typically less powerful than their sturdier, more permanent counterparts. While they do perform well, and will do what they are designed for, they simply can't compete with their larger more involved hot tub counterparts.
Hot Tub Seating
Non-inflatable – These tubs have spacious seating complete with jets for every guest. These hot tubs can be built for one person up to 10 people. Their sturdy frame allows them to easily support each hot tub user comfortably. 
Inflatable – These tubs generally don't have seats and you must sit on the floor of them to emerge yourself into the water. Some models do have headrests. While they typically don't have seating, they can be large enough to accommodate as many as 7 people. 
Jets
Non-inflatable – These tubs have various kinds of high-powered jets. Some of them even have interchangeable jets that are customizable. The kind of tub you purchase will determine how many jets there are, where they are, and what kind they have. Also, depending on whether you have a 120v or a 220v tub, the jets will have varying degrees of power. However, both models will have enough force to create jet streams that will massage your muscles and leave you feeling great. 
Inflatable – While some inflatable tubs do come with jets, they are known as air jets. These jets come from small holes placed around the perimeter of the tub. They produce a bubble effect in the water, but they do not provide any kind of massaging function.
Our Most Popular Hot Tubs
Portability
Non-inflatable – These tubs can be moved, but it will require more effort. Some of them may even involve a few people and possibly some equipment to just move around in your backyard. They are heavy when empty, and very heavy when filled. Moving them requires great care and some planning. 
Inflatable – Inflatables can be drained and easily moved. Not only can they be moved, but due to their inflatable nature they can be packed up and don't take up as much space. This can make them easy to move from house to house or house to campsite. They can be carried upstairs and inflated. In terms of movability, these tubs reign supreme.
Ultimate Relaxation
Non-inflatable – Non-inflatables have luxuries including high-powered massaging jets, ambient lighting, blue-tooth audio, water features, comfortable seating, and optimal water temperature whenever you want it. Non-inflatable tubs have everything you need to melt away stress, aches, and pains and can be large enough to accommodate just you and your significant other or you and an entire party of people!
Inflatable Hot Tubs – Inflatables are relaxing and provide hot bubbling water to soak in. However, they simply can't compete with their sturdier counterparts in the overall experience. Inflatables have fewer features and less capability due to their construction. This will detract from the overall experience when compared to all that a non-inflatable tub can offer. However, they still provide a relaxing oasis to retreat to after a long hard day – just make sure you plan to start warming the tub early or be prepared for a hefty bill to keep it warm all the time. While cheap inflatable hot tubs provide many of the benefits gained from hot water therapy, when compared to the larger more expensive non-inflatables, they just don't have as much to offer.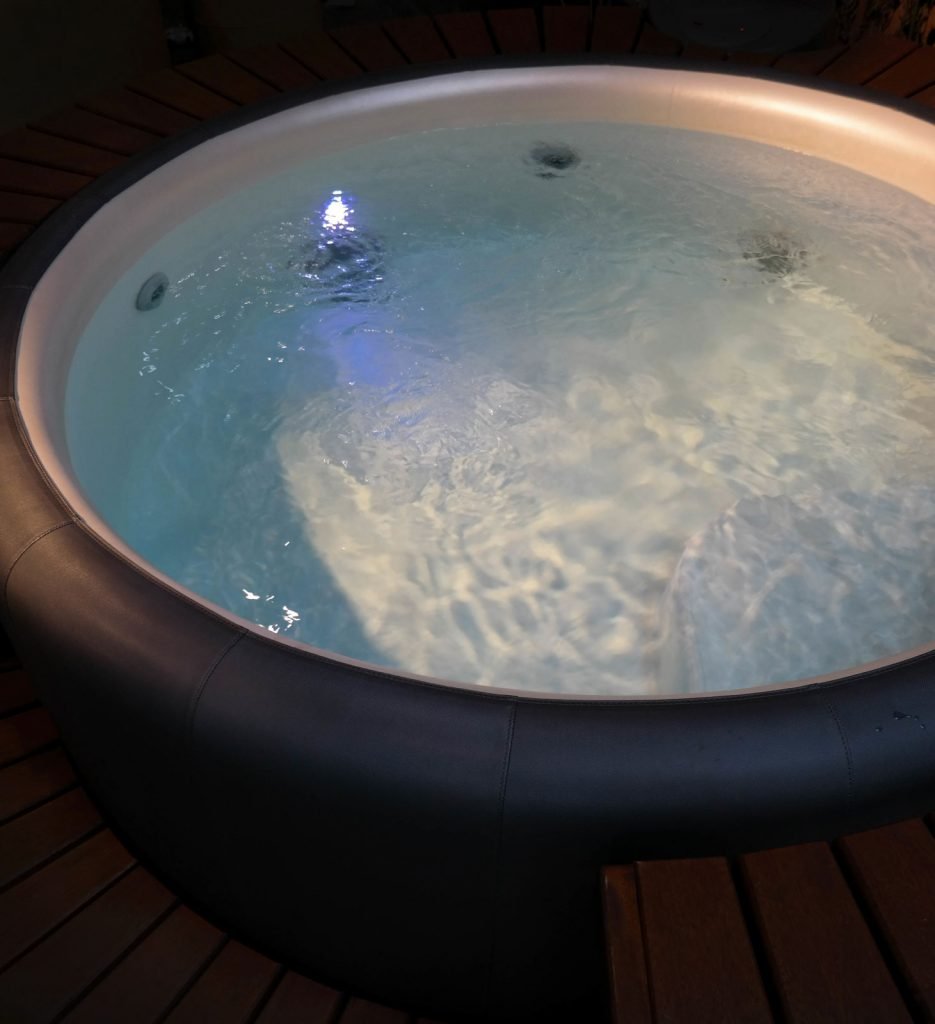 Cost of the Hot Tub
Non-inflatable – While the price ranges on these hot tubs vary between affordable and tens of thousands of dollars, they will always be more expensive than an inflatable. This is due to their complex construction, features, and materials that must go into manufacturing them. 
Inflatable – If you are on a tight budget but want a spa, these are great options. You will be hard-pressed to find an inflatable spa that retails for over $1,000. Only the best-of-the-best will cost over a grand. They are extremely affordable, but they don't have as much to offer as the Non-inflatable spas. They give you the bare bones spa experience at a very affordable price – but be prepared to pay a little more to heat them and keep them heated!
Looking for Affordable Relaxation in a Hot Tub?
Are you looking for a little bit of tranquility in your life? Look no further than the Dr. Wellness G-10K Tranquility Spa. This deluxe spa comes complete with built-in Bluetooth audio. Listen to your favorite tunes, or mediation podcast while you relax. It also features neck, shoulder, calf, and foot jets to help soothe away your tensions. And if that's not enough relaxation for you, the 360-degree full surround waterfall is sure to do the trick! Plus, this spa is plumbed using 100% anti-fungicide tubing to prevent nasty bacteria build-up in the lines – ensuring cleaner water and less chemical use. Its synthetic cabinet comes in coastal gray or mocha and perimeter lighting is included. This spa is sure to add a touch of luxury to any backyard.
Winner of Inflatable Hot Tub vs. Non-Inflatable Hot Tub
Both Inflatable and Non-inflatable hot tubs will give you the hot tub experience. Inflatable hot tubs provide a hot water oasis where you can relax and unwind. Many of them also have air jets for a bubbling effect. When it comes to the true hot tub experience, though, the Non-inflatable hot tub comes out on top. They just have too many advanced features and technology packed into them. While they do come in at a higher price point, they have more to offer. You get true, high-powered jets for a real, muscle-soothing massage. You get water features and lighting elements that create a serene relaxing environment. Lastly, your water temperature is right where you need it to be – when you need it to be there. With comfortable seating to lounge in and enough room for the whole family, you can't just beat the Non-inflatable hot tub for a true spa experience.