Want to know if plug and play hot tubs are right for you? If you're looking for the easiest way to start relaxing in your own private spa in just a few hours, then yes!
Plug in hot tubs are just like they sound. You bring the hot tub home, plug it in and fill it with water and you are ready to bring hot tubbing into your daily routine!
It is an undeniable fact that hot tubs are a luxury. But it doesn't mean they can't be affordable and easy to install!
Read this on our 110V rotomolded hot tubs – and how they will work for you!
There may be reasons why people might not want to buy a plug-and-play hot tub, but there are plenty of advantages to buying a hot tub that's so easy to install.
What is a plug-and-play hot tub and how does it work?
A plug and play hot tub is a type of hot tub that doesn't require professional installation. It is also known as a 110V hot tub.
As the name would suggest, all you need to do is plug it up, and turn it on. Upon delivery, you will have all you need to get your hot tub up and running so that you can get to relaxing as soon as possible. You can install it yourself, there is no need to hire an electrician.
The ease of adding a plug and play to your home, as well as their great functionality, make plug-and-play hot tubs a popular choice for many.
Types of plug and play hot tubs
There are a few different options of spas on the market.
The two most popular types are inflatable and portable hot tubs. While both of these kinds of tubs receive good reviews, they have key differences to consider before you make up your mind on which is right for you.
Inflatable
Inflatable hot tubs are just that – they inflate! This makes them easy to set up, and you don't need any tools or experience to do it.
Inflatable hot tubs have very simple air jets that create a bubbling effect in the tub, but they don't do much more than that. No deep massage like our more powerful Plug and Power series.
Inflatable hot tubs do have the best portability due to their inflatable rubber design but if you want anything more than just hot water, you'd want to go with something more powerful. But, the good thing is – if you don't like where you put it you can just drain your tub and move it to a better spot!
Portable
A portable plug and play spa is more solid due to their frame. They can handle high-powered massaging jets.
So, if you're looking for a good hot water massage – a portable plug and play hot tub may be the best for you. Our Plug & Power PP53 Spa comes with Bluetooth waterproof audio and built-in speakers & subwoofer – all of that is included in the price!
While they aren't as portable as their inflatable counterparts, they do have a sturdier composition. Which makes them ideal for bigger families. Their strong construction also means they are built to last. If you take care of your spa, it can last you for many years.
Do they take up a lot of space?
If you're looking to adopt a plug-and-play hot tub into your home, make sure the hot tub is the correct size for the space you will be putting it in. You'll want to thoroughly measure the hot tub and the space.
If you are concerned about space, you should utilize a corner if at all possible, as this helps to maximize spatial efficiency.
For example, Aqua Living's Hudson Bay HB14C Model Spa is a great plug-in choice for people wanting to save space. It is what is known as a corner spa.
Corner spas have a triangular design and are some of the best spas for people who have space in mind.
The benefits of plug and play spas
Plug-and-play hot tubs are a relatively affordable way to enhance the relaxation and comfort of your personal space.
They also can easily be installed without having to pay an electrician. This can be a great addition for anyone who wants to enhance their relaxation and comfort, while still saving some money.
Plug-and-play hot tubs are reliable and efficient at keeping a water temperature of 104 degrees Fahrenheit (the Consumer Products Safety Commission's limit). Read this on the best hot tub temperatures!
They have good jet power and plenty of jets to massage your whole body. Going to the gym, to a friends house, or a spa to use a hot tub can be an inconvenience.
The plug-and-play hot tubs make it much easier to stay comfortable in your own home, without compromising convenience.
When you invest in a plug-and-play hot tub, you're getting a quality, functional spa that will last you for years to come at a great price point. And it comes with a good seating capacity too!
You are getting all of the health, social, and time-saving benefits that come with owning a spa. The best part is, all you have to do is plug it in and fill it up!
Should you buy a plug-and-play hot tub?
At the end of the day, it is up to you if you think a plug-and-play hot tub is worth it. It all depends on what you're looking for and what your needs are. There's no right or wrong answer to this question; it depends on the individual and their preferences.
What we can say, is that these types of hot tubs are worth considering!
Plug-and-play tubs are designed for quality and convenience.
Are they easy to set up?
The setup process is a breeze, so if you need to enjoy your hot tub as soon as possible, then a plug-and-play hot tub may be a good option.
They're simple, affordable, have good jet power, plenty of heat, and adequate space for friends and family to relax together.
If you're looking for more high-end features, increased jet power, and more space, then perhaps you should consider a 220V spa.
Here at Aqua Living, we offer our "Turbo Seat" technology, in our plug-and-play tubs.
This technology makes the jet pressure in two seats equivalent or greater than a 220V tub.
This can be the deciding factor for someone on the fence between the two tub choices since you get all the benefits of a plug-and-play, and the best jet pressure you can get.
PLUG AND PLAY HOT TUB REVIEWS
PLUG AND PLAY HOT TUB REVIEWS
See how our Plug & Power Spas make your daily life better!
Consider a Plug and Power Spa from Aqua Living
Looking for a luxurious hot tub experience right in your own home? Look no further than the Aqua Living Factory Outlets Plug & Power PP53 Spa.
This top-of-the-line spa features full 360-degree surround waterfall effects, factory-installed ozonator, and full foam insulation to keep you warm and comfortable all winter long.
With turbo seat technology providing intense jet pressure, 8 perimeter LED lights, and Bluetooth waterproof audio with built-in speakers and subwoofer this spa is sure to deliver the perfect relaxation experience every time.
Where are they made?
It's also proudly made in the USA!
With all of our spas available in Sterling Silver, Tuscan Sun, Pearl, Opal, Midnight Canyon, and Deep Water acrylic colors, you're sure to find the perfect one for your backyard oasis that will match your home decor.
Plus, all of our Plug & Power Spas are covered by a 2-year warranty on major components and plumbing, and a 5-year warranty on structure and shell with fast shipping.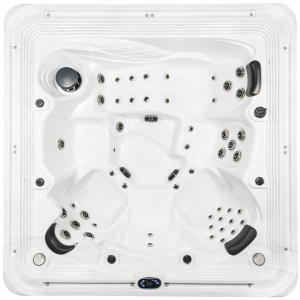 If you are in the market for a hot tub and are looking for something affordable, capable, and easy to set up, then plug-and-play hot tubs may be right up your alley.
If you want a large, luxury hot tub with lots of jets, great heat, and room for plenty of family and friends to enjoy at once then buying a 220V may be a better bet.
The choice is ultimately up to you! Hopefully, this article has helped to clarify some of the questions you had about plug-and-play hot tubs and helped you decide if these are right for you when you start to shop.
Please, let us know if there is anything else you'd like us to cover about plug-and-play hot tubs! We love hearing from our readers.