For those who want to go big or go home, extra large hot tubs or a swim spa is a backyard must-have.
Huge spas aren't just luxurious, though — if you're planning on soaking with a large group of friends or family, they can also be a smart investment.
If you have a large backyard or extended family, you might want to go with an extra large hot tub.
What can be more fun than inviting over all your friends and family to your home for a dip in your swim spa or a late-night soak in your hot tub?
Of course, many people choose not to use their hot tubs for groups of people at all—they just enjoy having them for relaxing in alone or with their partner.
If this is your situation, then you get the best of both worlds by having a huge hot tub when you want to have everyone come over or room to spread out even if it's just two people.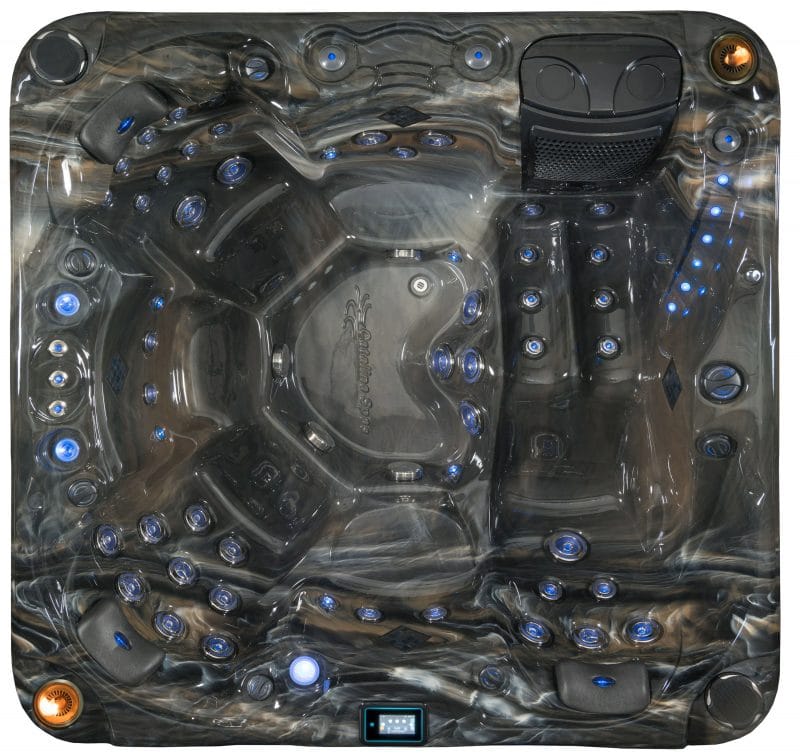 You might be wondering, "How much space do I have to have?"
Well before purchasing any kind of spa, there's some important information that needs consideration: The size of the hot tub you want!
You need to measure your space and make sure you have the room for the hot tub you're wanting.
We suggest your concrete pad be at least one foot wider on all sides than your hot tub.
You don't want to find out on delivery day that your spa is not going to fit. Also, consider how you're going to get your hot tub in place.
Does it have to come through a fence or a gate? Are you going to use a crane to drop your spa in place?
There's a lot of hot tub dimensions to consider, but in the end, what's most important is all the fun and memories that you're going to make!
Here are the five reasons why a bigger hot tub is better than a small one:
More Room to Relax: A larger spa has more room for you and your family to stretch out and relax in comfort.
Improved Aesthetics: A bigger spa can add a touch of luxury to any home and can be a statement piece of your backyard! Spas create an inviting atmosphere that's perfect for entertaining guests.
Enhanced Comfort Features: A bigger model spa often comes with additional comfort features such as upgraded pillows, cushioned headrests, and foot massagers that allow you to truly indulge yourself in relaxation.
More Advanced Technology: Many of the latest models come with advanced technology such as Wi-Fi connectivity and audio systems, allowing you to take your entertainment experience to new levels. Your spa will make all your neighbors jealous!
Variety of Seating Configurations: Larger spas give you a variety of seating configurations, from lounge chairs to bench seats, giving you the best possible spa experience every time you use it.
Here, we'll cover three of the most popular large hot tubs and swim spas that we offer. As you'll soon see, sometimes the best things don't come in small packages.
1. Plug & Power PP41
Buying a large spa doesn't necessarily mean you have to break the bank. With the Plug & Power PP41, you'll get ample room for seven people at an affordable price and with an incredible look.
Plus, like all hot tubs in the Plug & Power line, this powerful hot tub only needs 115V of electricity to operate. That means you just have to plug it into any standard household outlet to get started.
That's saves a lot of time and effort and means you can be in your spa before the day is over. 
Did we mention our hot tubs are made in America?
Buying a spa that is made in America has advantages.
The hot tubs sold at Aqua Living have quality craftsmanship and superior design.
You can also have peace of mind knowing that the materials used in its construction are top of the line. We care about our quality!
By purchasing an American-made hot tub, you can support local businesses and help to boost the economy. All in all, buying an American-made hot tub is a good investment that will provide years of relaxation and enjoyment!
And did we mention the benefits of a nightly soak in a hot tub?
The PP41 Hot Tub features include:
Forty-one stainless steel massaging jets, including shoulder and calf jets. These make all the difference in the world when you slide into your hot tub at night. Don't we all want someone that never gets tired to give us a massage?

Eight perimeter LED mood lights

User-friendly topside system controls – trust us you want a hot tub that is easy to operate

Turbo seat technology — at least two seats have the same (or better!) jet pressure as a 220V spa

Synthetic cabinet in the color of your choice

Full foam insulation to maintain your perfect temperature in your spa
You can also choose from a number of optional upgrades such as:
Factory installed ozonator

Rechargeable floating drink station (this is one of our favorite hot tub accessories!)

Side handrail

Spa cover
And one of our top selling items – our Hot Tub Pergola!
Anyone who wants to enjoy their hot tub in style and with total control over their privacy will love our new hot tub pergola. 
This stunning, long-lasting, powder-coated aluminum pergola measures 10 by 10 and is 8 feet tall. 
You can control the amount of sun or shade you receive with the fully electric louvers. Use your hot tub any time of day or weather!
With a stylish, simple-to-use wireless remote, you can open and close the louvers without even having to leave the tub.
For those afternoons when the sun is low or you need more privacy, our pergola has privacy curtains and an optional electric shade.
What if you want an even bigger spa?
2. Large Catalina Luxury Nantucket Hot Tub
If you won't settle for anything less than the best, the Catalina Luxury Nantucket is the spa for you.
It's one of our most popular oversized hot tubs with a seven person capacity and an abundance of high-end features and powerful jets, you'll never be left wanting more.
This hot tub is ready for your outdoor bash and can easily turn your home into the envy of all the neighbors. The lighting alone can bring out the oohs and ahhs! 
This is a hot tub you'll want to see in person! Just make an appointment at your closest store and one of our hot tub experts will walk you through everything!
See what Nancy H has to say "The Nantucket is the perfect hot tub for my large family. All the kids can get in and then when they leave the adults have plenty of room. It has the perfect amount of jets. I couldn't find another hot tub that could compare. Best spa I've ever been in."
The Nantucket's many amenities include:
Fifty-four stainless and lighted massaging jets

Two LED water fountains

LED backlit water spouts and cascading spillway

LED backlit cup holder

Two LED floating crystal balls (one of our customers favorite features on this spa.)

Cushioned LED backlit magnetic pillows

Intuitive Gecko K-1000 spa controls

Built-in Balboa WaveTEC 254 UV sanitizer

Built-in Clear View H-100 ozone sanitation system

Ultra-durable SynthaWood™ skirting

Long-lasting Eternitree™ Forever Frame
Want to go the extra mile? You can also upgrade your spa with these features:
Fresh water mist system

Auto fill water system

Self-extinguishing fire feature (you won't find a feature like this on any other spa!)

Rechargeable floating drink station

Spa startup chemical kit
3. Catalina 21' Pool Series Swim Spa and Large Hot Tub

While there are plenty of more compact swim spas available, the 21′ Marathon Dual Temp is truly in a league of its own. This swim spa is so large, multiple people could lay in it from end to end!
This positively mammoth swim spa is equipped with:
Touchscreen Controls

Bluetooth Audio System

Clear View H-500 Ozonator

Balboa SmartSwim™

LED Underwater Lighting

(8) LED Backlit Water Spouts

LED Backlit Controls

LED Backlit Jets

(8) LED Side Lights

(4) LED Step Lights

(24) LED Perimeter Lights

(2) LED Cabinet Accent Lights

Blower in Body Massager

(3) Stainless Exercise Rails

Insulated Cover

Ceramic Swim Lane Tile

Ceramic Water Line Tile

100 s/f Filter
And that's just the swim spas side! You also get an amazing hot tub that has 6 person seating, 57 stainless jets and two high-powered pumps.
These types of spas are definitely making a name for themselves and a lot of people are choosing them over a traditional pool.
You'll also have the option to purchase a variety of additional amenities, such as:
AnyTemp® technology

for a water temperature range in your spa of 56 degrees to 104 degrees.

Aqua swim bike

Aqua swim treadmill

Balboa WaveTEC UV sanitizer

Freshwater mist system

LED backlit massaging jets

WiFi connectivity

Twenty-four LED perimeter lights
What to Look For When Comparing Swim Spas
There are several things to think about when shopping for a swim spa. You should first pick a reputable manufacturer that produces high-quality goods and offers first-rate customer support.
Make sure to look at all the swim spa's features to decide which ones best suit your demands and way of life.
Third, find out if the product has any additional safety features or warranties. Nothing can beat the peace of mind of knowing you bought a swim spa that will last. 
Put this close to your kitchen for easy access to food and snacks and close your bathroom and you'll have the ultimate backyard oasis.
If you do all these things, you can be sure that you're going to get get the ideal swim spa for your home and family!
If you're in the market for a large hot tub or swim spa, any of these three options is sure to meet (and exceed) your expectations.
Whether you're soaking with two people or eight (an 8-seater hot tub = party!), you'll love the space these spas provide.
Financing Hot Tubs and Spas
Getting the spa you've been dreaming of doesn't have to be a challenge.
Our in-house finance department makes it easy to get the hot tub of your dreams, even if you have bad credit.
Our flexible payment plans are designed so you can find an option that works with your budget and allows you to feel comfortable with your purchase.
It's never been easier to get the spa that's perfect for you and your family.
Don't let bad credit hold you back – our finance department is here to make sure everyone can enjoy life's simple luxuries!