What should you be looking for in a hot tub chair?
There are a lot of different types of hot tub seating options but one of the most popular that people want when they start their search is the lounger.
Who doesn't want to imagine themselves sitting back in complete relaxation with the hot water helping them leave their troubles behind?
For many people, a hot tub is the ultimate relaxation destination and one of the main reasons they are looking to buy one.
Whether you're looking to unwind after a long day or spend quality time with friends and family, there's nothing quite like soaking in the hot bubbling water of a hot tub.
You've had that experience on vacation right? Hopped in a hot tub and didn't want to leave?
Now you can have that same experience at home!
When selecting the perfect hot tub for your space, it's important to consider what type of seating you want and what will be most comfortable for you and your guests.
Let's take a look at some of the different types of seating available in modern hot tubs.
Types of Hot Tub Seating
Lounge Seats
A lounge seat is characterized by its wide, curved design that allows users to recline comfortably against the backrest while their legs are submerged in the hot water.
This is a very popular hot tub chair.
If we're being honest, this is the seat we always get in if we're getting in the hot tub alone. Ahh. Bliss!
This style of seat is great for those looking to relax and soak away tension as they stretch out their legs. Some loungers even have calf and feet jets to help take things up a notch.
Lounge seats typically come with adjustable neck jets that allow users to target specific areas around their neck and shoulders for maximum relief.
Chair Style Seats
Corner seats are designed so that two people can face each other across the tub.
These seats can also be equipped with many jets, which makes them a great choice for couples or friends who want an invigorating massage experience while they chat in the hot tub.
Corner seats usually have neck, shoulder, and calf jets.
In between these "corner" seats, you will find slightly smaller seats, which we will talk about later on in this article.
Multi-Seat Configurations
Hot tubs can come with many different seating arrangements.
Depending on your needs and budget, carefully choose a seat configuration that will be comfortable for you, your friends, and your family.
A proper multi-seat configuration will allow users to customize their own jet placement depending on where they sit, so each person can enjoy a personalized massage tailored just for them.
A proper configuration will also ensure that each person using your tub has a seat they are comfortable in and can get in and out of safely.
Difference Between Chair Style and Lounge Seats
Hot tub lounge seats differ from regular hot tub seats in design and possibly comfort level (depending on preference).
A lounge seat is a slanted reclining seat that allows you to comfortably lounge while your legs remain submerged.
They come equipped with jets that run down the seat all the way to your feet.
This allows for a full-body massage.
One con of lounge seats, is that they take up a lot of room in your hot tub, meaning you can have less guests.
So, if you're planning on entertaining in your hot tub you may want to stick to normal seating!
Chair style seats, on the other hand, are molded into the sides of the hot tub and offer an upright sitting position.
They can also provide a full-body massage, however, it's less common for them to have jets that go from neck to feet.
Corner seats are generally the largest, with seats between them being smaller.
These seats may have less jets (due to a smaller surface area), but still provide a great spa experience.
The Difference in Big/Small Hot Tub Seating
The truth is that hot tub molds come in many shapes and sizes.
You can find a hot with just about any seating situation you could want.
A bigger hot tub obviously has more room, meaning the variations can differ a little more, and seat size can be larger.
Small to mid-size tubs can still seat quite a few people, but the seats may be smaller.
This is also true for the seats in-between the corners.
An "in-between seat" in a large hot tub can be almost as large as a corner seat, this is not as true in a smaller tub.
You can also find large hot tubs with two lounge seats; this is not as common in smaller tubs due to all of the space needing to be optimized.
The bottom line is, get a large hot tub if space is your top priority.
Seats can be larger, and you'll have more room to move around.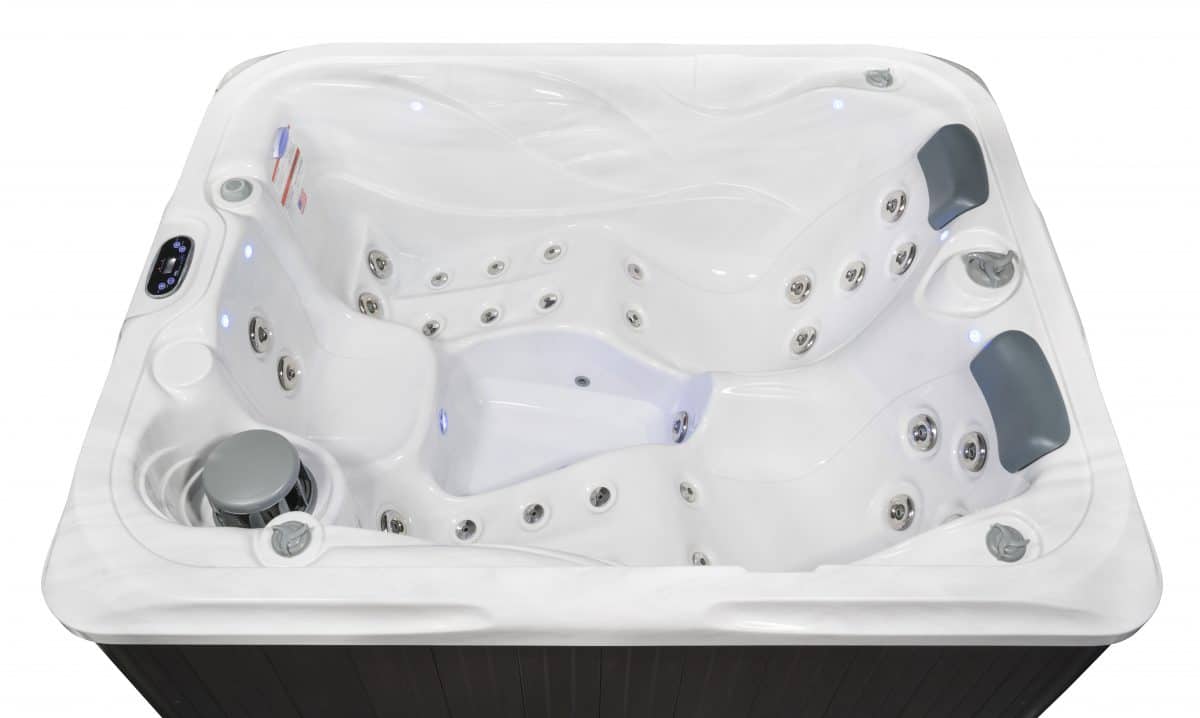 If you and your family just need seating and the space isn't a deal breaker, then a small to a mid-size tub with an adequate number of seats will serve you well!
When planning your ideal hot tub experience, be sure to consider all your seating options before making a purchase!
With various styles available such as lounge seats, corner seats, "in-between seats", and multi-seat configurations, there are plenty of options available.
So, you can find one that best suits you and your guests' needs.
If you have questions about any particular seating configuration, feel free to contact us. We are more than happy to help! Happy soaking!